Erlangen/Nuremberg
Shock in Nuremberg! HC Erlangen defeats top team from Hanover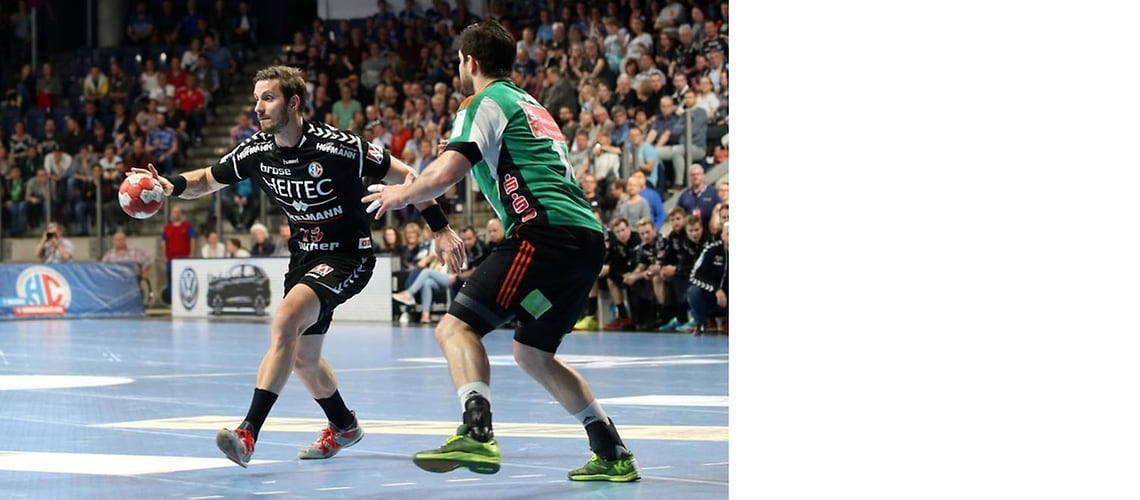 Erlangen/Nuremberg, 2018-14-04
The team of Head Coach Aðalsteinn Eyjólfsson pulled off a big surprise in the ARENA NÜRNBERGER Versicherung, defeating TSV Hannover-Burgdorf by the deserved margin of 34:28.
HC Erlangen got off to a furious start and was 7:3 in front after six minutes. However, the visitors from Hanover showed hints of their class after that, closing the gap to 12:11 after a timeout. An exciting end-to-end tussle ensued up to the break in what was a highly emotional encounter. Both teams went in at half-time with the score at 15:16 and not a few of the 4,087 spectators had their doubts about whether the HC's strength would last until the end.
The visitors from Lower Saxony went two goals ahead in the 37th minute. Only few people could have guessed at the time that it would be the last time they were to lead in Nuremberg that evening. HC Erlangen did not give up – on the contrary: It played as if possessed, producing a memorable and sparkling display in attack to pull away. The game was decided after just 55 minutes when the strong captain Michael Haaß made it 31:26. The scenes that ensued were simply ecstatic. Standing ovations accompanied the team throughout the final minutes and Andreas Schröder added the final goal to give his side a sensational 34:28 victory! It means HC Erlangen now has 19 points. It was a bitter defeat for Hanover in its battle to gain a spot in an international competition next season. The injury to Johannes Sellin, who demonstrated his superlative class today, is a bitter pill.
With this team performance and the crowd's fantastic support, anything is possible for the HC in its next home games against Wetzlar and the top encounter against Rhein Neckar Lions.
Aðalsteinn Eyjólfsson commented: "I'm very proud of my team. That was a performance full of desire to win. We forced a top team in the league to its knees with pure and unadulterated passion."