Hüttenberg
HC Erlangen capture two points in Hüttenberg's cauldron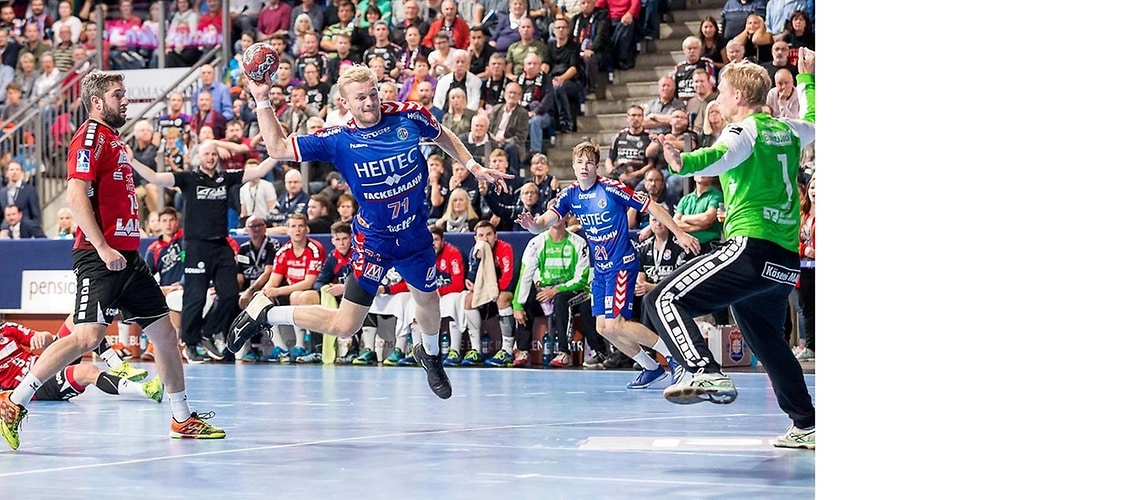 Hüttenberg, 2018-21-04
HC Erlangen confirmed its good form on Saturday evening with a 24:27 victory on the road in a physical game at league newcomers Hüttenberg to spark a jubilant and buoyant party mood among its around 200 fans who had made the journey to Central Hesse.
14 time penalties, two red cards and a blue one – the statistics from the encounter between TV Hüttenberg and HC Erlangen speak volumes. The home side from Hüttenberg had resolved to fight tooth and nail in its battle to avoid relegation and so both teams traded blows from the outset. In particular the opposing side's interplay with the pivots or the finely carved-out goals from the backcourt repeatedly posed great problems for the HC's defense. TV Hüttenberg led by three goals after 17 minutes and threatened to pull further away. However, it was in particular Jonas Link who kept his side within striking distance thanks to his four goals in a row and shouldered responsibility in the toughest spell in the first half. As a result, HC Erlangen managed to take a narrow 13:14 lead in with it at half-time.
Right after the break, the club from Hesse equalized when it had a man more on court. However, its Moritz Lambrecht was then shown the red card right away for a foul on Steinert. A physical game, characterized by many time penalties and red cards, then ensued. Andreas Schröder suffered in particular from the tough play and was forced to retire injured in the 40th minute: The Icelandic international Ragnar Johannsson hit Schröder in the face with his hand and was directly shown the red and blue card. Once more this season, the team of Head Coach Aðalsteinn Eyjólfsson proved what it is capable of in crunch time. With great emotion and unbridled willpower, HC Erlangen managed to move three goals ahead with three minutes left, thanks to the in-form Christopher Bissel's goal. Nikolas Katsigiannis, Erlangen's man between the posts, also decided the goalkeeping duel clearly in his favor and helped his side to success with a quota of 37% shots saved. Spurred on by the future HC player Dominik Mappes, who scored six goals, Hüttenberg put up vehement resistance to avert the impending defeat. However, Erlangen kept its cool to the end in the cauldron to capture a deserved 24:27 away win.
Aðalsteinn Eyjólfsson commented: "I'm incredibly proud of my team and have a very high regard for the fighting performance it produced. Keeping your cool in this atmosphere is no easy matter."