Sulingen
Dinkel wins second race in the German Rally Championship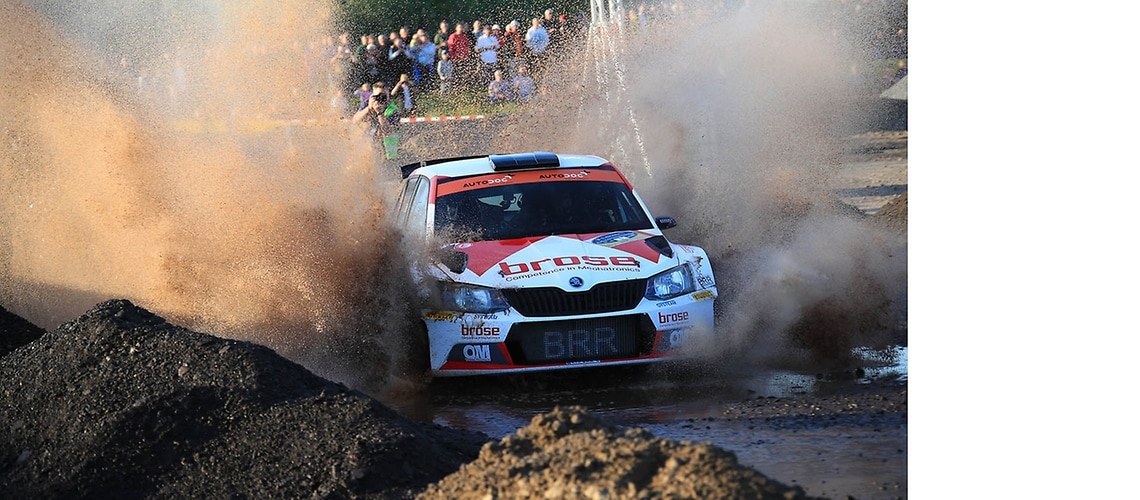 Sulingen, 2018-05-05
Dominik Dinkel and Christina Kohl drove to victory in the second race of the German Rally Championship – the 31st ADAC Rally "Rund um die Sulinger Bärenklaue" – in their Skoda Fabia R5 to take the lead in the table. Local hero Christian Riedemann and co-pilot Michael Wenzel finished 8.3 seconds behind the winners on their comeback to finish second overall in an identical Skoda. The final spot on the rostrum was captured by Marijan Griebel and Alexander Rath in a Peugeot 208 T16 R5 after they came out on top against Herman Kobus and Erik de Wild from the Netherlands in a Skoda on the final trial. The Dutch guest starters Jan De Winkel and Radboud Van Hoek in a Renault Clio won the 2WD division, which is staged as part of the German Rally Championship for vehicles where only one axle is driven. In resplendent sunshine, 50 of the 72 participants who lined up on the Friday managed to finish. The broadcaster n-tv showed the best scenes from the ADAC Rally "Rund um die Sulinger Bärenklaue" at 7:30 a.m. on Sunday in its magazine "PS - DRM - Die Deutsche Rallye-Meisterschaft" ("HP – DRM – The German Rally Championship") and will repeat it this Saturday at 9:30 a.m.
The field was very strong, with a total of seven R5 all-wheel drive vehicles. Three changes in the lead on the first three trials on the Friday evening promised an exciting tussle and highlighted how evenly matched the top teams are. Riedemann got off to a perfect start, clocking the best time on the opening trial to celebrate an impressive comeback in his home event 390 days after his accident. However, his joy at leading did not last long, since the pilot from Sulingen lost 30 seconds after making a mistake driving through a patch of water on his home circuit. Dinkel did not make any slips on the first three trials and so finished the first day as the overall leader.
Riedemann set about catching up on the Saturday. With a total of nine best times, he fought his way back to the top and was just less than ten seconds behind Dinkel in the afternoon. Thanks to constant times, Dinkel managed to hold on to his narrow lead and decide the duel in his favor. "It got very tight for us at the end. As expected, Christian gained ten seconds on us on the grounds of the IVG and also put pressure on us on the other trials. It was nerve-racking at the end because I was also thinking about winning, but also about the championship points. Fortunately, everything turned out perfectly. I'm delighted about this victory," said Dinkel at the finish.