Bonn
s.Oliver Würzburg loses at Telekom Baskets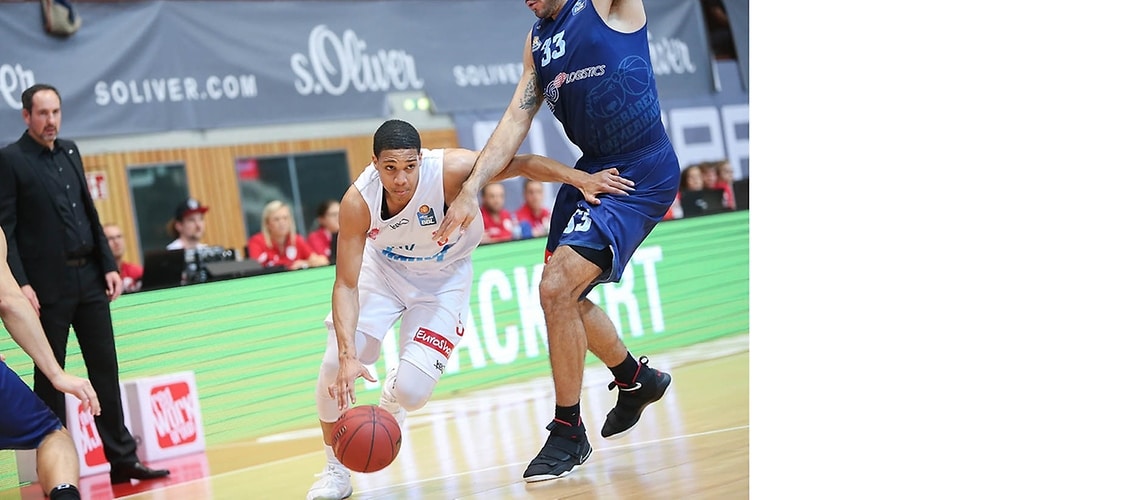 Bonn, 2017-12-11
Bonn buried three successive buckets from beyond the arc in the first four minutes to surge 11:0 in front, whereas Würzburg only got off the mark from its eighth shot of the encounter. However, the visitors then fought their way back into the game very quickly. New signing Vaughn Duggins added four points and so also played his part in restricting Bonn's lead to just 22:18 at the end of the first period, despite the lightning start.
In the second quarter, Würzburg's intense defending reaped rewards: The home side managed a meager two points from the foul line between the 12th and 20th minute. Although Würzburg did not tick over smoothly in offense, a three by Cliff Hammonds and four points from Robin Benzing helped produce a 12:2 run and put the visitors ahead for the first time. TJ DiLeo ended Bonn's barren spell with the first of his total of four buckets from downtown to make it 31:32 at the break.
The opening of the second half also belonged to the home side. TJ DiLeo and Josh Mayo recaptured the lead for the club from the Rhineland with two threes (37:34). Yet its opponents from Lower Franconia were not perturbed and kept on striking back after trailing by slight margins. With Bonn leading by 47:43 in the 29th minute, Abdul Gaddy, Kresimir Loncar and Vytenis Lipkevicius countered with an 8:0 spurt – the two threes by Würzburg's captain and the Lithuanian player swayed the game toward their side at the end of the third period (47:51).
Two steals by TJ DiLeo right at the start of the final quarter soon put the momentum back with the home side. DiLeo finished the first fast break himself with a lay-up, while Vytenis Lipkevicius was only able to stop the second with what the referees adjudged to be an unsporting foul, which Bonn capitalized on to move 53:51 ahead after a free throw by Konstantin Klein and a bucket from outside by Malcolm Hill.
Abdul Gaddy drained a free throw to make it 64:65 with three minutes remaining, but the home side responded with a run of seven points without reply (71:65). Head Coach Dirk Bauermann called a timeout and Würzburg clawed its way back to 71:70, after which Yorman Polas Bartolo buried another three to make it 74:70. With 7.1 seconds left on the clock, Robin Benzing had the chance to equalize with three free throws. Yet the player with the best free throw percentage in the league this season missed one, just as he had a few seconds before. After a very thrilling game, Würzburg thus succumbed to Bonn by the narrow margin of 75:78.