Würzburg
s.Oliver Würzburg loses to Oldenburg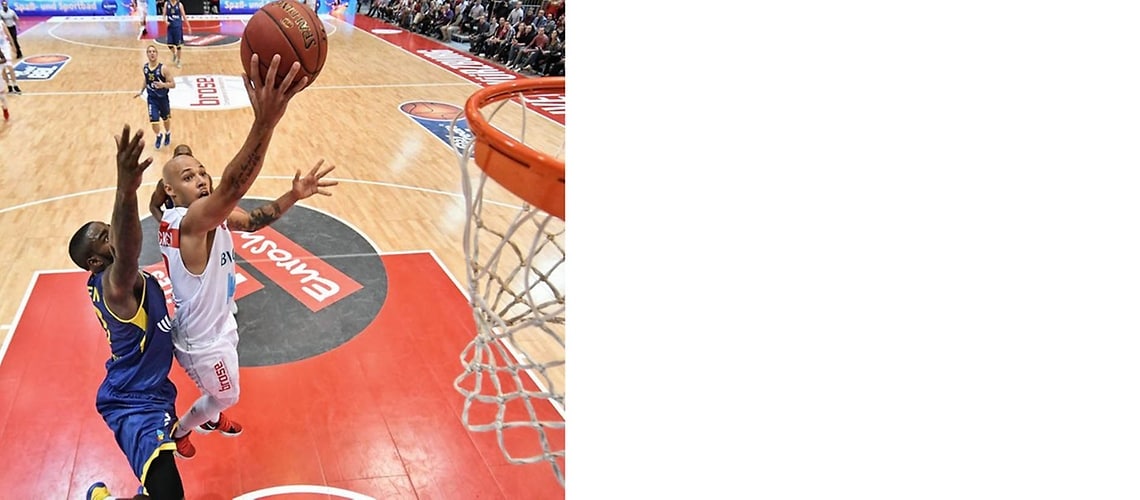 Würzburg, 2017-28-10
The team of Head Coach Dirk Bauermann suffered its first home defeat at the weekend. In the sold-out s.Oliver Arena, the home side squandered a 17-point lead against last season's runners-up EWE Baskets Oldenburg and went on to lose by the narrow margin of 84:86.
It was a typical "game of runs" from the outset, although the home side was ahead for long spells. The visitors from Lower Saxony initially went 5:11 ahead, as Würzburg had problems getting in the game. However, the home side finally found its rhythm by stepping up its intensity in defense. Oldenburg was unable to score a single point up to the end of the first period. A run of 13 points without reply, which was completed by a spectacular jump shot by Abdul Gaddy on the buzzer, put Würzburg 18:11 in front at the end of the first quarter.
Last season's runners-up initially turned on the screws again in the second period, reducing the deficit to 29:28 in the 15th minute and forcing Dirk Bauermann to call his first timeout. Each team them produced several small runs, before Ryan Anderson and Maurice Stuckey with a bucket from downtown enabled Würzburg to open up a slightly wider gap at the end of the first half (41:35).
Apart from four successful free throws by Rickey Paulding and Bryon Allen, nothing went Oldenburg's way in offense at the start of the third period. The home side passed the ball fluently, drained a number of shots from outside and was able to produce a 15:4 run to open up what seemed a decisive 56:39 gap. The visitors struck back with a run of 10 points without reply, after which D.J. Richardson, Vytenis Lipkevicius and Abdul Gaddy extended Würzburg's lead again to 13 points by the 30th minute.
Rickey Paulding then came into his own in the final period, scoring 17 of the visitors' 33 points. "He was outstanding today. We lost against him," said Dirk Bauermann. Of the first 19 points Oldenburg scored to close the gap to 75:72, twelve were notched up by Rickey Paulding, whom the home side was no longer able to stop. After stealing possession, Paulding added a lay-up to give the visitors their first lead since the first period. Abdul Gaddy tied the scores again with a few seconds left on the clock, but Rickey Paulding replied with two more free throws to make the final score 84:86.
"It's a pity we lost after leading for almost 38 minutes. We have a lot of chances to seal the game, but failed to take them," stressed Dirk Bauermann.