Oberhaching
Ten in a row for BBC COBURG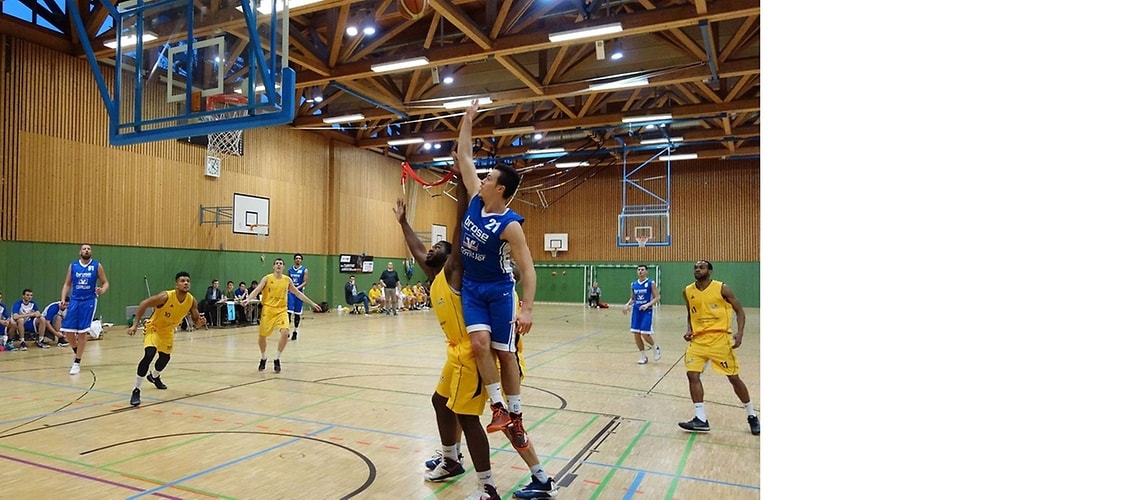 Oberhaching, 2016-18-12
BBC COBURG gave their fans an early Christmas present by beating TSV Oberhaching Tropics in commanding fashion 100-68 on Sunday afternoon and thus extending their 1. Regionalliga winning streak to ten games.
Despite being without second-leading scorer Fabian Franke, who could not make the trip to Munich due to illness, BBC COBURG jumped out to an early 12-2 lead and never really looked back. Crisp ball movement on offense created open looks for shooters Kevin Eichelsdörfer and Michael Herold who calmly knocked down consecutive three-pointers. Inside, experienced big man Daniel Stawowski points) showed his soft touch knocking down several mid-range jumpers and young Sebastian Wyczisk excelled as a roll man in pick-and-roll situations.
When forward Jordan Burris, who finished with a game-high 25 points, hit a deep long-range bomb at the first-half buzzer and scored eight straight to start the third quarter, the game was all but in the books (36-55, 33.). After that, the guests extended their lead by consistently attacking the rim. Steffen Walde alone had eight trips to the charity stripe and converted seven free throws. Meanwhile, the hosts let their frustration get the best of them and were called for several technical fouls. Young forward Daniel Eisenhardt pushed the score into triple digits when he converted a behind-the-back pass by "point center" Manuel Imamovic (68-100, 40.).
Floor general Eividas Molosciakas, who once again reliably ran the show and controlled the game tempo, praised his teammates' unselfishness after the final whistle: "We had a lot of fun today, shared the ball really well and everybody contributed." His headcoach Simon Bertram seconded his point guard: "We saw a terrific team effort tonight, I am really proud of my guys. We all did our job in 2016, now we have to finish it in 2017."
First-placed BBC COBURG take a one-game lead into the Christmas break. On Thursday, January 5, they travel to third-ranked VfL Treuchtlingen for an away game with big-time championship implications.