Auburn Hills, MI
Brose Tuscaloosa presents Mechatronic Apprenticeship Program in cooperation with Lawson State Community College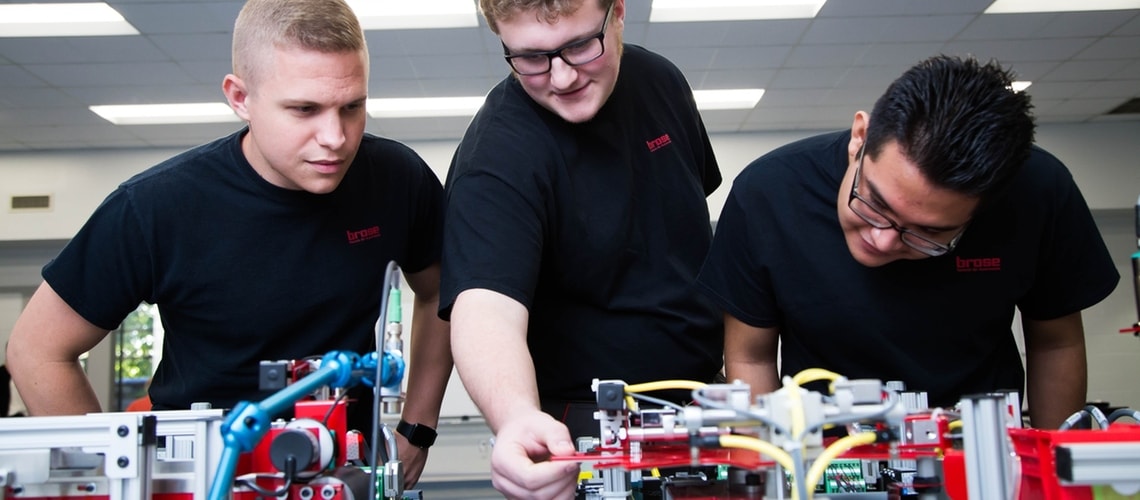 Auburn Hills, MI, 09-20-2017
Brose Tuscaloosa Inc., a technological leader in mechatronics – the integration of mechanics, electrics and electronics – recently held a corporation with Lawson State Community College in Birmingham, AL. to create a new Mechatronics Apprenticeship Program for students and develop a high-tech manufacturing talent pool.
Brose Tuscaloosa, the American subsidiary of the German company Brose Fahrzeugteile GmbH & Co. KG and the world's fifth-largest family-owned automotive supplier, chose to work with Lawson State Community College due to its proximity to both – the Brose plant in Tuscaloosa and the thousands of potential student-workers in the area.
The Mechatronics Apprenticeship Program enables Brose to continue growth in talent development for advanced automotive part manufacturing.
Other benefits of cooperating with Lawson State Community College are the already established mechatronics curriculum, lab equipment and instructors.
"Our decision to work with Lawson State is paramount to our growth in Alabama", explained Jan Brauer, Plant Manager of Brose Tuscaloosa. "With so much growth in the automotive parts manufacturing industry here we need to create our own source for experienced technicians and Lawson State has what we need to train – well rounded, new and motivated employees."
Introduction of the Mechatronics Program
Mechatronics is a multidisciplinary field of engineering that includes a combination of mechanical engineering, electronics, computer engineering and control engineering. Mechatronics stands for a combination of mechanical and electrical skills. The Mechatronics Apprenticeship Program is a triennial program that is based on rotation between classroom training at Lawson State Community College and full-time work at the Brose plant, usually on eight-week intervals. It allows students to learn not only theory-based information, but also experience hands-on instruction in the lab and on the shop floor. Students will be paid a weekly stipend during school periods and hourly wages while they are working in the plant.
After completion of the program students will receive an associate's degree in Mechatronics and will have the opportunity to work in the Brose plant as a Specialist in Welding, Acoustics and Fastening, a Maintenance Technician or a Quality Lab Technician. Thus, systematic education and training offer numerous opportunities for development and growth after graduation.
The Collaboration between Lawson State and Brose Tuscaloosa
In North America, Tuscaloosa is one of two areas targeted for growth in the southern region. Brose has been a part of this county's economy for almost 13 years and Tuscaloosa has proven its competitiveness in cost and quality, along with the ability to supply a hardworking and enthusiastic workforce.
First production started in 2004, to manufacture door system for Mercedes Benz. Brose Tuscaloosa then launched the seat system operation in 2011 for Volkswagen, Ford and BMW. Brose has created around 800 jobs in the last 3 years within the region and will keep expanding in the future. Brose Tuscaloosa is second largest manufacturer in the region next to Mercedes-Benz U.S. International (MBUSI).
Brose Tuscaloosa chose Lawson State Community College as partner at the beginning of the year. During three Open House days targeted to potential recruits, the plant gave facility tours to provide High School students an insight about the program and on how to apply. Lawson State Community College was also present to answer questions and support with the on-site application process. Three selected students started the program for the first time at the end of August 2017.
"Brose needed a partner to better prepare its workforce", said Dr. Perry W. Ward, President of Lawson State Community College. "We understood how they have create programs to educate people in Germany and Detroit, so we adapted our existing program to meet their needs, as well as benefit the greater community."
Brose Tuscaloosa and Lawson State Community College are looking forward to the start of the Mechatronics Apprenticeship Program this fall. More information about the program and the application process can be found on http://www.lawsonstate.edu and on https://www.brose.com/apprenticeship-na/ .
About Brose North America
Brose has been a committed partner to the North American market since 1993. The mechatronic specialist now counts ten locations across Canada, the United States and Mexico and employs approximately 5,000 people in the region. The entire range of Brose products is manufactured throughout the North American facilities, from window regulator and door modules to seat systems.
About Lawson State Community College
Lawson State Community College, located in the southwestern section of Birmingham, is composed of two main divisions – an academic division and a career/technical division. It is ranked as a Top 5 Community College in the nation. The college is proud of its ability to provide seamless administrative processes and educational support services for students and other constituents. As President, I am committed to student success and excellence in teaching and learning. Consequently, the college offers an affordable and flexible education that is comprehensive, innovative, technology rich and designed to meet the diverse education needs of constituents in Jefferson County. The college has positioned itself to equip, engage and empower students to be active and responsible participants in the educational process as well as in future endeavors.