Bamberg
Brose doubles capacities in Bamberg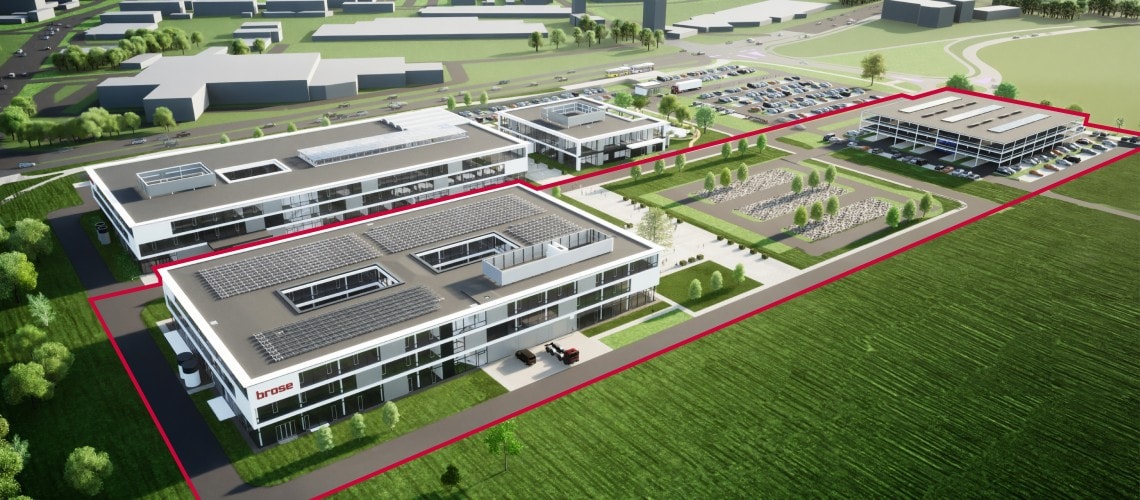 Bamberg, 10-19-2022
The automotive supplier Brose has started the second building phase at its location in Bamberg. The construction of several buildings will increase the capacity from 600 to over 1,200 workplaces. The additional approximately 13,000 square meters of a new administration building are needed for the future expansion of the globally active family-owned company. In addition, the current shortage of space at Brose locations in Coburg and Hallstadt will be eliminated.
A new parking garage has 310 spaces and a Brose Kids Club is being built to care for more than 60 children of employees. Brose is spending around 60 million euros on the construction measures for the buildings and outdoor facilities by 2024. Including the investments at the Hallstadt site, more than 250 million euros have already been invested into the Bamberg area since 2014.

Brose attaches particular importance to sustainability and energy efficiency in the new buildings. Photovoltaic systems on the roofs and the use of geothermal energy make it possible to do without fossil fuels. Thanks to increased insulation and efficient building technology, the facilites only need 40 percent of energy compared to reference buildings.

The expansion in Bamberg shows that, despite the current difficult economic conditions, Brose is confident about the future and wants to offer further attractive jobs. High order intake in recent years and stable financial substance are the basis for future growth. With the consolidation of the Brose Sitech joint venture, the family-owned company will achieve a business volume of over 7 billion euros in the current year and employs more than 30,000 people at around 70 locations in 25 countries.