Bayreuth
Medi Bayreuth defeated 70:78 by one of the top favorites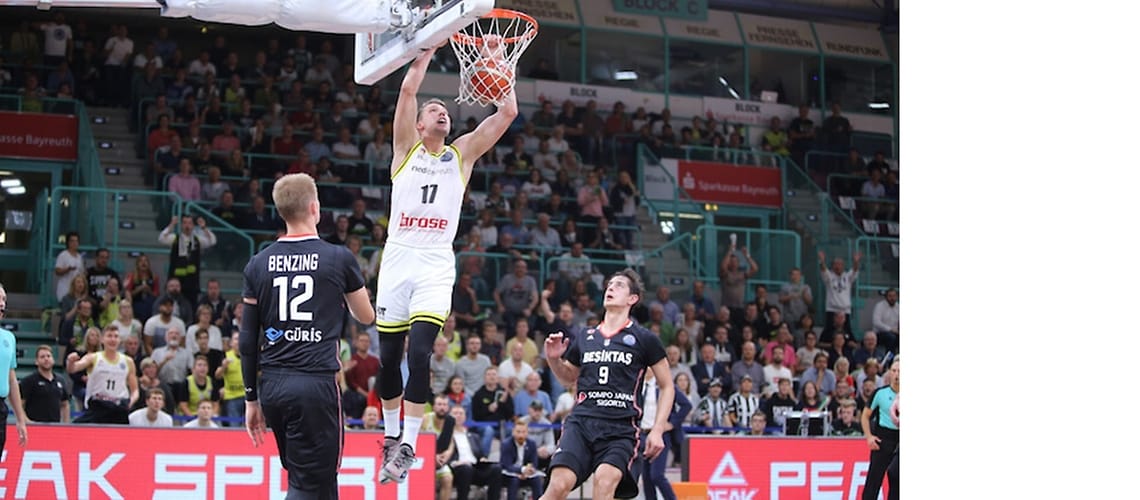 Bayreuth, 10-09-2018
Medi Bayreuth has taken another step forward in team development at the start of the new Basketball Champions League season. Head coach Raoul Korner's team performed well against Besiktas Sompo Japan Istanbul and kept pace with their opponents for most of the game. The captain of the German national team Robin Benzing who plays for Istanbul, plus some decisive mental lapses from Bayreuth in the last five minutes were the decisive factors in the final result – so there was to be no surprise result in this opening Champions League match.
Medi Bayreuth started forcefully in this first game of this year's group phase of the Basketball Champions League. Missed passes and offensive shots that went astray allowed Besiktas Sompo Japan Istanbul to quickly establish a 10-point lead. Medi lost their initial nervousness around mid-quarter, however, and got back into the game with a 14:0 run, giving Korner's team a 4-point lead, which they held on to until the buzzer sounded for the end of the first quarter.
The second quarter saw an exciting, hard-fought game during which neither team was able to break away… and the lead changed ten times. When one team made some points, the other team immediately countered them – and the second quarter ended with Medi Bayreuth trailing by just one point. The scoring for Bayreuth was distributed quite evenly; David Stockton and Adonis Thomas (yet again) were the best. Ivan Buva was the most efficient scorer for the Turkish team, having scored 13 points going into the halftime break.
This would all change after the break though... because the Medi defense just couldn't keep the German national player Robin Benzing down. The ex-Wuerzburger scored 16 points with a score of over 70% after halftime. To their credit, however, Medi kept up as best they could, with Lukas Meisner repeatedly providing important impetus from the bench. Istanbul were never allowed to break clear points-wise, and the game was wide open going into the final quarter.
Medi Bayreuth kept the points gap between the team down to single figures – but they just couldn't grab the lead. Again and again, minor errors prevented what might have been a decisive turnaround. When the long-awaited moment for a turnaround was finally within Medi's grasp at 66:68, Istanbul responded with a decisive final run – and in the end the Turks deserved to win this game.
Source: www.medi-bayreuth.de