Coburg
Big derby win for BBC COBURG against TSV Troester Breitenguessbach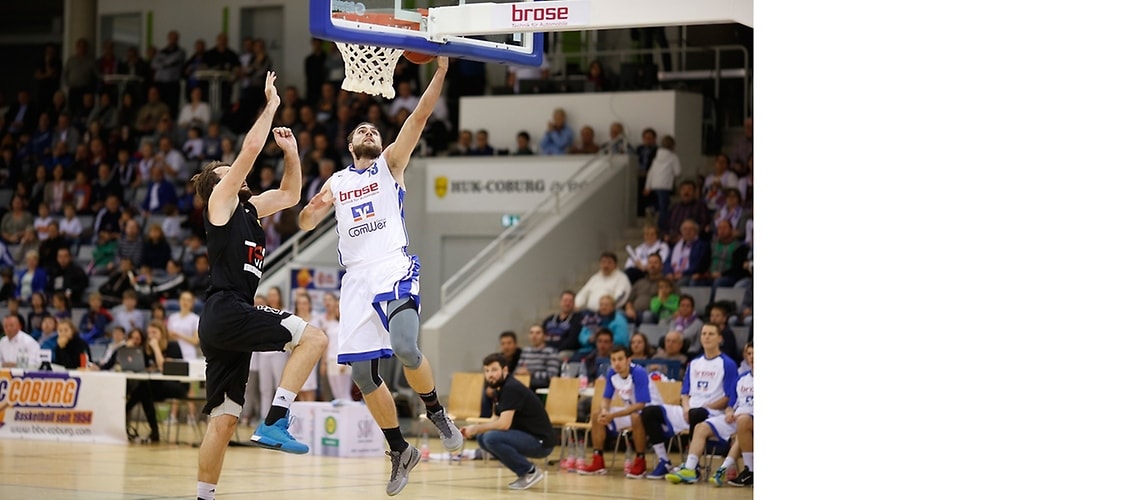 Coburg, 11-12-2016
A third-quarter surge helped BBC COBURG secure a huge 86:74 home win against local rivals TSV Troester Breitenguessbach. Having won five in a row, the 1. Regionalliga newcomers now find themselves in second place with a 6-1 record.
A raucous HUK-COBURG arena crowd of 1,200 experienced a captivating forty minutes of high-level basketball. The long-awaited "clash of neighbours" exhibited all the traditional characteristics of a local rivalry game: suspense, intensity, a bit of bad blood and individual heroics.
The guests got off to a better start and took a 10-8 lead when former 2. Bundesliga pro Dimitry McDuffie calmly drained a three-pointer from the top of the key. BBC COBURG center Daniel Stawowski answered with a beautiful left-handed hook-shot and six successive points by forward Fabian Franke (16 points, 7 rebounds) put the hosts into the driver's seat at the end of the first quarter (23-20, 10.). A mid-range jumper by Sebastian Wyczisk and a catch-and-shoot three by Jordan Burris extended the BBC lead to six at the start of the second stanza. Then, however, a number of unforced errors and costly turnovers brought Breitenguessbach right back into the game. "We were a little bit overexcited and made a few bad decisions trying too hard to play uptempo", point guard Eividas Molosciakas later admitted. BBC took a narrow 41-36 lead to the locker room. The third quarter once again paved the way for the hosts victory. Led by the uber-aggressive Molosciakas (7 steals, 8 assists), the Coburg defense stymied TSV's offensive rhythm and forced the opponent to turn the ball over a whopping 25 times. In the paint, despite imminent foul trouble, Stawowski, Franke and Manuel Imamovic now manhandled Breitenguessbach's impressive frontcourt and held key figure Erik Land to a "landless" 6-point, 1-of-7 shooting and 7 turnover performance. Coburg's offense started to click, as well: Thanks to terrific ball movement, Franke, Steffen Walde, Kevin Eichelsdörfer and former TSV guard Sasa Gligorovic all found themselves wide open on the perimeter and knocked down respective long-range bombs. The lead quickly ballooned to twenty points (76:56, 33.). The guests did not go down without a fight and came back to within eleven points midway through the fourth quarter. But it was too little, too late: When the ever-reliable Burris (21 points, 9 rebounds) hit another three and Walde (20 points, 6 assists) outsmarted the TSV defense for an easy layup, a convincing win for BBC COBURG was in the books.
"First and foremost, I want to thank our amazing fanbase for coming to the game in such great numbers and for providing us with tremendous support. Home court advantage certainly was one of the keys tonight", BBC head coach Simon Bertram commented after the final whistle. He added: "We won a hard-fought battle of two very capable basketball teams and I am very proud of my players. I think all of us did an outstanding job in promoting the game of basketball this evening."