Bamberg
Brose Bamberg fails to win at home against Kaunas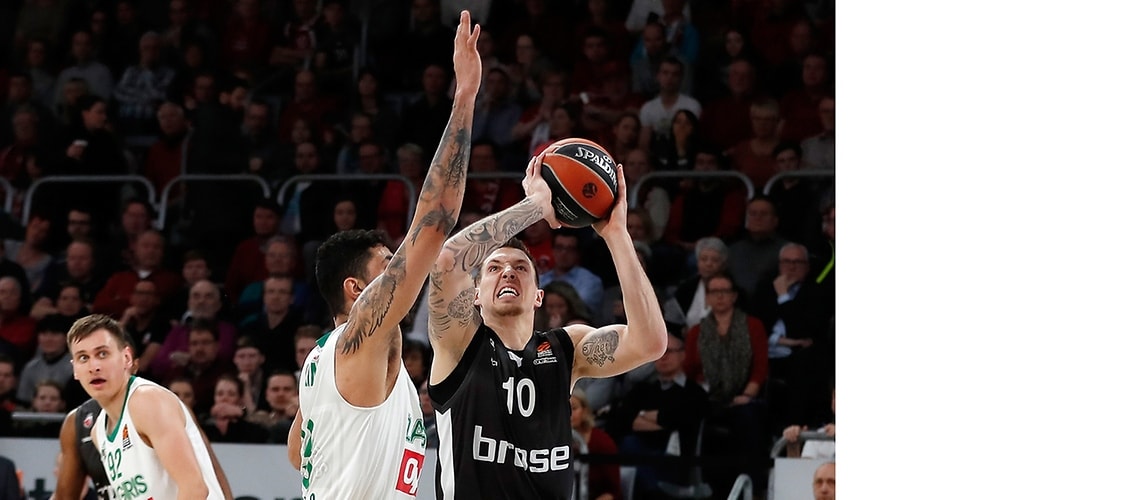 Bamberg, 02-24-2017
The 86:91 home defeat in the Euroleague on Friday evening was the eleventh time that Brose Bamberg had lost to the Lithuanian club in twelve encounters. The gap separating the team of Head Coach Andrea Trinchieri from a playoff berth has now increased to four wins – with just seven matchdays left in Europe's top club competition.
Bamberg went into the home game without Janis Strelnieks (torn shoulder ligament) and Elias Harris (knee injury), both of whom had injured themselves during the cup win in Berlin last weekend. Lucca Staiger was also missing due to tonsillitis. The opening five minutes indicated that Trinchieri's players were in for a tough evening: Bamberg did not find an antidote to Paulius Jankunas in defense and whenever Zalgiris missed the basket, one of its players snapped up the offensive rebound. Moreover, Nicolo Melli conceded two fouls as early as the second minute and Trinchieri took him off. Bamberg trailed by 7:18 after five minutes, but clawed its way back to 16:18 with a slam-dunk and bucket from beyond the arc by Daniel Theis and a lay-up by Maodo Lo. Kaunas struck back with threes by Lukas Lekavicius to extend the gap to 22:30. Bamberg's youngster Ali Nikolic was given a lot of time on court by Andrea Trinchieri and turned in a strong performance with nine points, enabling Bamberg to get back in touch again (32:34). The home side went in at half-time trailing by just four points (45:49).
After top scorer Nicolo Melli (17 points) reduced the gap to 54:55 with two lay-ups, it was three attacks before Nikos Zisis put the home side ahead for the first time. Darius Miller (15 points) completed the 11:0 run to make it 60:55 and shortly afterwards Nikolic gave Bamberg its highest lead of the game (66:60). However, the Lithuanian cup winners then cut the deficit to 68:67 at the end of the period. The lead changed hands four times up to midway through the final quarter, but after the scores were tied at 74:74, it seemed as if the home side was playing against a boarded-up basket – and Kaunas produced a run of seven points without reply to pull 74:81 ahead. Top scorer Daniel Theis (17 points) was able to cut the gap to 86:89 with ten seconds on the clock, but the visitors immediately hit back with two free throws to seal the encounter.
Andrea Trinchieri commented: "We got off to a poor start and played sloppily. We weren't ready in defense. That gave Kaunas confidence and meant we were in for a tough game. However, we were able to get the momentum on our side in the third period. And then there was also the key point: We could have done with a few good actions in defense, but instead we made mistakes and so let Kaunas get back into the game. We have to analyze how it's possible for two players to be responsible for nine out of the eleven threes. That was very definitely a factor in the game."
Brose Bamberg aims to continue its winning streak in the German Basketball League on Monday, February 27, and beat Basketball Lions Braunschweig at home (tip-off: 7 p.m.).