Munich
Brose Bamberg lose 59:67 on the road against arch-rivals Bayern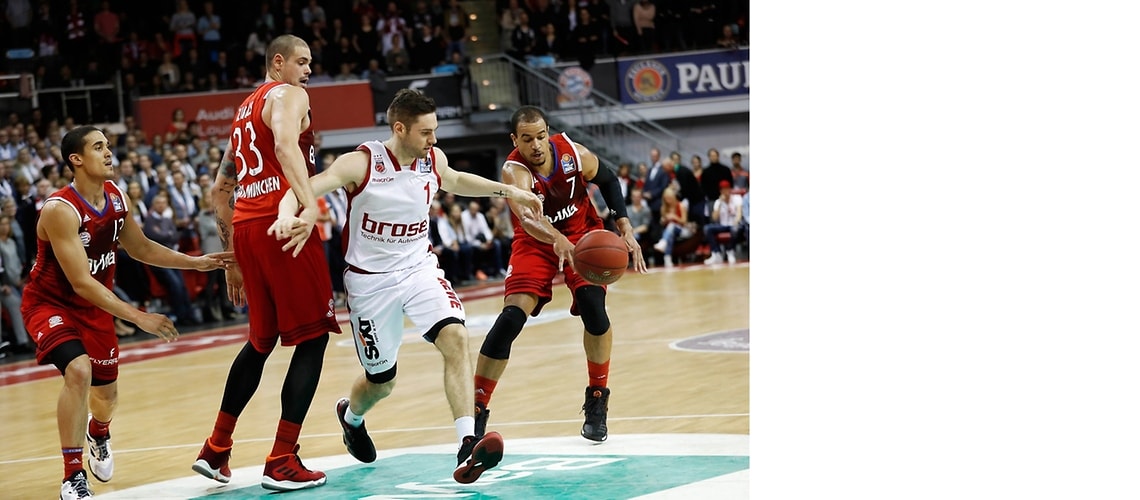 Munich, 03-19-2017
Has this defeat decided who will finish first at the end of the regular season? Whereas ratiopharm Ulm remains unbeaten at the top of the table, the German champions and cup winners Brose Bamberg suffered a 59:67 defeat at its Bavarian arch-rivals FC Bayern Munich. Even if the team of Head Coach Andrea Trinchieri beats Ulm next week, it can only move into first place if Ulm slips up again.
Both teams found it tough to get into their rhythm in the tussle between two of the league's top teams: Bayern conceded six turnovers in the opening minutes, but Bamberg exploited that inadequately. Although Nicolo Melli drained a three to put his side 7:4 in front, only two out of Bamberg's eight open shots from outside hit their mark. Munich managed to take a two-point lead on the buzzer at the end of the period. Bamberg was then able to stop the home side from scoring for four minutes thanks to attentive defending, yet capitalized too little on that. Out of Bayern's six losses of possession, Bamberg scored just four points on fast breaks; in addition, Trinchieri's players were not in scoring form and ended up with a shooting percentage of just 30. Bamberg missed the chance to build a wide lead and so went in at the break leading only by 28:27.
At the start of the third period, the club from Upper Franconia was not able to score against Bayern's defense for three-and-a-half minutes. Bamberg's lack of luck with the open shots it carved out was now compounded by too many turnovers – Trinchieri's players conceded possession a total of eight times in offense in the third period and so trailed 37:49 going into the final ten minutes. Top scorer Nikos Zisis (13 points) and Daniel Theis and Jerel McNeal (10 each) reduced the deficit to 53:60, but of all players it was Anton Gavel who made his only bucket of the evening against his former teammates to put a stop to Bamberg's run (53:63). Conclusion: Bamberg was not fit enough to cope with Bayern's strong defense three days after its magnificent fighting performance against Fenerbahçe Istanbul.
Andrea Trinchieri commented: "Bayern produced a solid game today and deserved its victory. We were far too restrained in the first half and had tired legs. It was obvious that the Euroleague game had taken its toll. That naturally makes it tougher to play against such an opponent."
Bamberg faces its next game in the Euroleague tomorrow, Tuesday, March 21, 2017, at home against Baskonia Vitoria Gasteiz, the former team of Fabien Causeur (tip-off: 8 p.m.).