Moscow
Brose Bamberg returns empty-handed from Moscow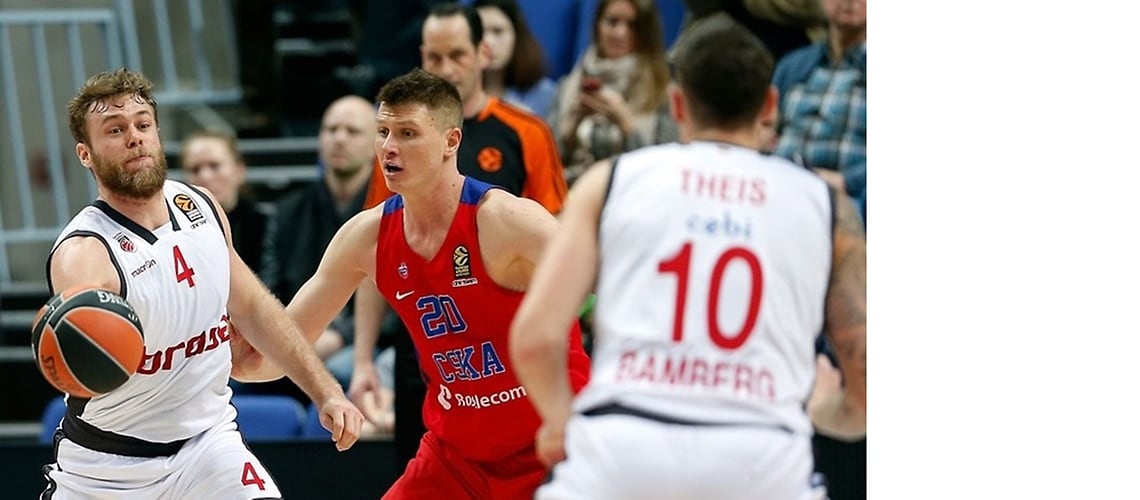 Moscow, 01-19-2017
Brose Bamberg simply did not stand a chance. The team of Head Coach Andrea Trinchieri went down to a 64:85 defeat on the road against the reigning Euroleague champions and group leaders CSKA Moscow, meaning its hopes of capturing a playoff berth have grown a little more distant. The club from Upper Franconia has already suffered eleven defeats in the Euroleague season so far – three more than eighth-placed Belgrade.
Although CSKA Moscow was without two key players – its superstars Milos Teodosic and Cory Higgins –, the champions came to terms with that well and clearly dominated the encounter from the eighth minute onward. Before that, Maodo Lo and Fabien Causeur had given Bamberg a quick 4:0 lead. However, the bucket from beyond the arc by Darius Miller to make it 7:3 was followed by a 7:0 run that gave the army sports club from Russia the lead for the first time. Vladimir Veremeenko scored again to put Bamberg 15:14 in front – for what was to be the last time in the game. CSKA then produced very strong defending and the German champions were not able to put up much of a challenge to it. The team from Russia's capital city added a 11:2 run straddling the periods, took a double-digit lead for the first time midway through the second quarter (33:22) and went in at half-time leading by 44:33. Bamberg enjoyed little success against the home side's aggressive defending; moreover, what few open shots it had failed to hit their mark. Only Nicolo Melli, who chalked up 13 of his 15 points in the first half, was able to make his mark against the champions.
Things did not get any better for Bamberg in the Megasport Arena after the break. In particular the top scorers Nando De Colo (26 points) and former Bamberg player Kyle Hines helped CSKA surge quickly into a 20-point lead (60:40). Sensing that his players would no longer be able to turn the game around, Andrea Trinchieri then left the slightly injured Nikos Zisis on the bench for the final ten minutes. Nevertheless, top scorer Daniel Theis (16 points) in particular was able to add a few slam-dunks and ensure that the deficit did not widen. Consequently, Bamberg was spared a debacle such as the one Milan suffered when it was trounced 64:101 in the Russian capital a week ago.
Andrea Trinchieri commented: "Congratulations to CSKA on a deserved victory. Very simply: They were better. We weren't able to match their intensity. We didn't drain our open shots and if you don't drain the few ones you get on the road in Moscow against CSKA, you have problems. We did a number of good things, but we didn't make our open shots. Then we lost our momentum, were frustrated and made mistakes in defense. We tried, but it wasn't enough against CSKA."
Brose Bamberg now faces a cup qualifier against medi Bayreuth in the Oberfrankenhalle on Sunday, January 22, 2017 (tip-off: 3:30 p.m.). The winner qualifies for the Top Four tournament of the easyCredit German Basketball League in Berlin on the weekend of February 18/19.