Bamberg
Brose Baskets exact revenge on Oldenburg with hard-fought victory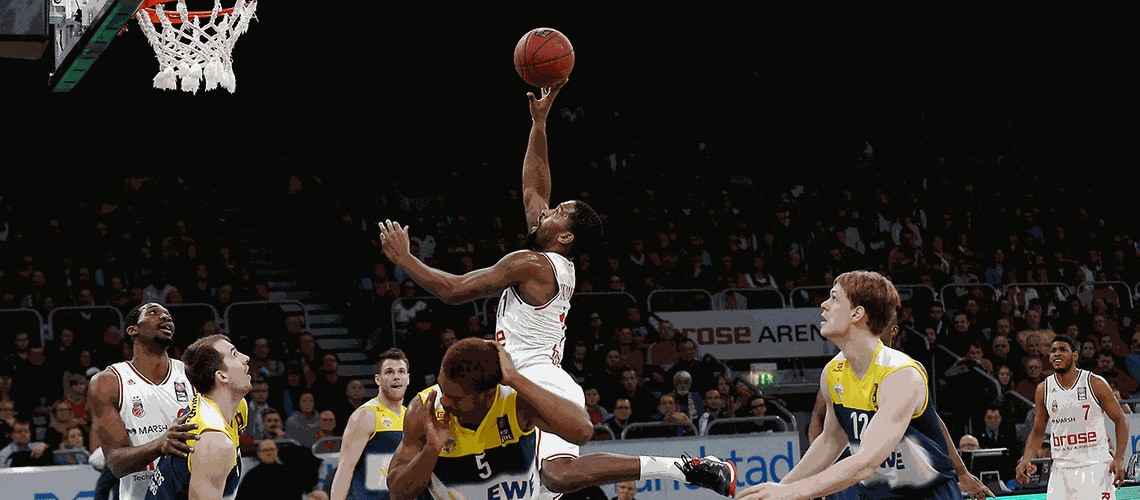 Bamberg, 02-01-2015
Brose Baskets successfully gained revenge for their defeat at EWE Baskets Oldenburg in November and have now won all their ten home games in the season and their tenth straight game in the German league. The team of Head Coach Andrea Trinchieri ran out winners by 89:82 against the club from Lower Saxony, which put up a tough fight for the whole 40 minutes.
After the visitors went 6:7 ahead with three free throws, Brose Baskets briefly stepped up the pace: a great lay-up by Josh Duncan, a bucket from beyond the arc by Ryan Thompson and a slam-dunk from Trevor Mbakwe after an exquisite pass by Dawan Robinson helped produce a run of ten points without reply to give Bamberg a 16:7 cushion.
Yet Oldenburg was not to be shaken off and was able to close the gap to 18:16, mainly thanks to the centers Adam Chubb and former Bamberg player Phillip Neumann. However, Dawan Robinson (10 points) and Ryan Thompson secured a 22:16 lead for their team at the end of the period. Top scorer Josh Duncan (21 points) and Elias Harris (10) produced a particularly strong display for Bamberg, repeatedly winning battles below the basket against Oldenburg's tough defending to help put Brose Baskets 27:19 in front midway through the second quarter. However, Bamberg again conceded too many easy baskets at the back and the visitors capitalized on their chances to close the deficit to 39:38, before Janis Strelnieks managed to secure a lead for his team at half-time with a lay-up (41:38).
Bamberg was only able to open up a slight gap after the break. Brose Baskets played very fluently in offensive and – like Josh Duncan with his nine points in the third period – chalked up a high shooting percentage. In defense, Trinchieri's players were able to make hardly any stops, as Oldenburg repeatedly struck back whenever Bamberg scored. Janis Strelnieks (12 points) made it 60:51 with a three-point play, but Bamberg immediately conceded a lay-up and a bucket from outside (60:56). The home side finally managed to build a double-digit lead thanks to two three-pointers from Daniel Theis and Brad Wanamaker at the beginning of the final period (70:58), but then squandered many free throws – twelve in number – and so failed to seal the game early on. Despite the three buckets from beyond the arc by Brad Wanamaker (18 points) in the final quarter, Oldenburg twice reduced the deficit to seven points and even after Wanamaker made it 86:74 with fifty seconds to go, it did not give up and scored eight points to put a better complexion on the final scoreline.
Andrea Trinchieri commented: "We missed twelve free throws in a home game. That means we weren't focused today. We had the chance to string together three good games in a row from the mental point of view. Unfortunately, we missed that opportunity today. We won thanks to a number of big plays and didn't play well in defense. Of course, you shouldn't spit on a win, but we only did a few things well. I'm not happy with our performance, so we'll try to become better."
Brose Baskets now face their next game in the Eurocup on Wednesday evening: a victory against Union Olimpija Ljubljana means they will book their ticket for the last sixteen. The game in the Brose Arena tips off at 7 p.m.