Spielberg
Engelhart: Elation and frustration at the Red Bull Ring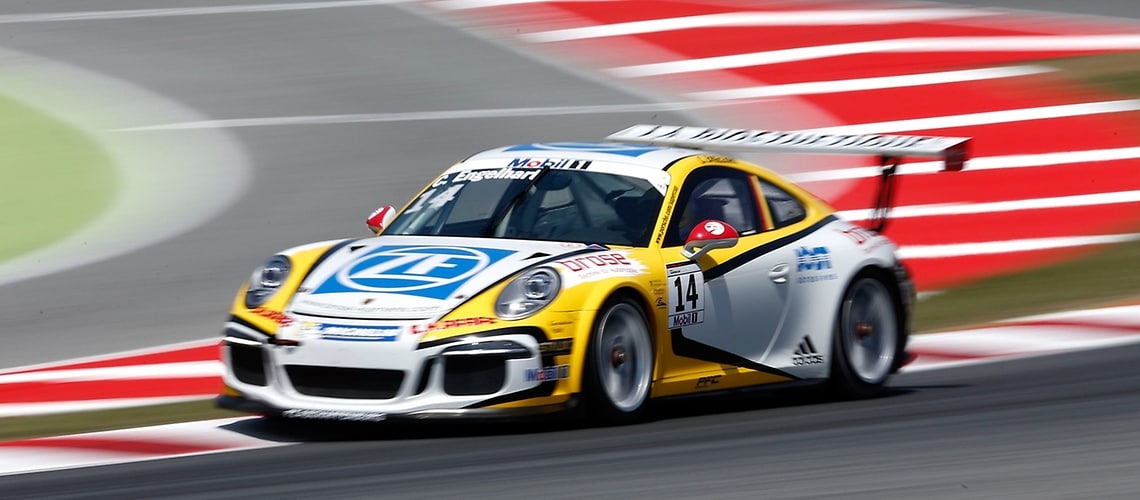 Spielberg, 08-02-2015
The race weekend at the Red Bull Ring in Spielberg saw a podium finish and an early exit for Porsche driver Christian Engelhart. The man from Kösching in Bavaria now goes into the summer break of the Porsche Carrera Cup as overall third place in the series.
At numbers seven and three on the grid, the starting positions for the race could have been better, but the points were there to be won at the ultramodern course in Styria, Austria.
Christian started the first race, backed by his experience and spurred on by his high level of motivation to prove that he could compete for a podium place, even under the demanding conditions on the mountainous course. Right from the start of the race, he overtook the car in front and there was more to follow. In one of the most exciting races of the season, Christian crossed the finishing line in third place – and he was delighted with the 16 points which won him a place on the podium for the third time in the Porsche Carrera Cup 2015.
With the help of new tires, Christian was again aiming for a place in the top three in Sunday's race. However, the Styrian weather thwarted the plans of the 28-year-old. Wet conditions and continuous rain at the start of the race produced chaotic conditions. One competitor lost control of his car and skidded from the outside of the track right across it – and into Christian's Porsche. The race was over for the MRS driver – and the chance to win more championship points in the title race was gone.
"It happened so fast, I just couldn't avoid him. My car was so badly damaged I had to get it off the track. It was a bad break, because we definitely had a chance to finish in the top three again."