Erlangen
Erlangen loses in Lübbecke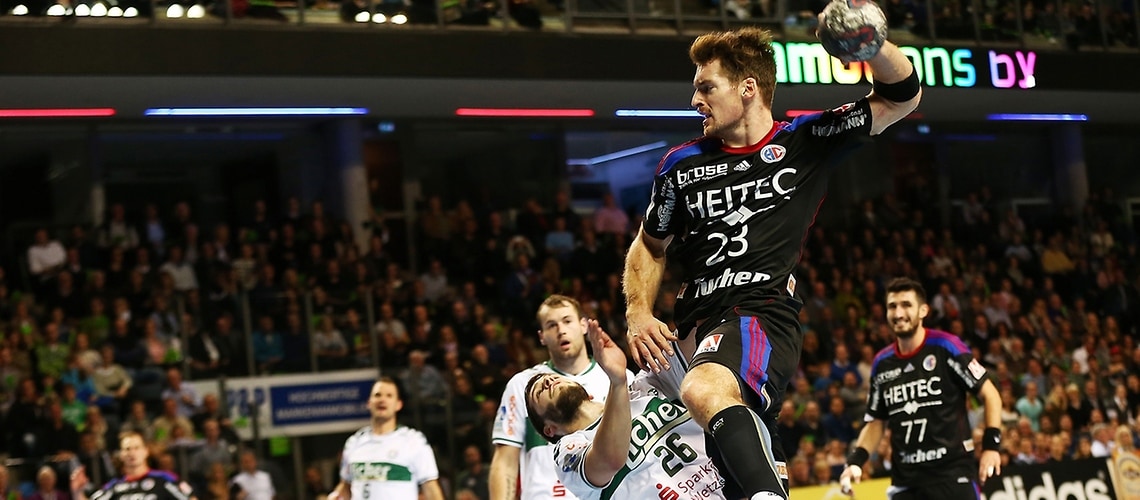 Erlangen, 06-06-2015
"We're traveling to Lübbecke to win," announced the HCE's Head Coach Robert Andersson before the game. And unlike some other teams in the "world's strongest league," the club from Central Franconia truly fought and ran until the last minute.
The game began completely to the taste of the 45-year-old Swede on Erlangen's bench. The HCE was uncompromising and stable in its defense. Behind it was once again Nikolas Katsigiannis, who played out of his skin in his final game for Erlangen. The home side from Lübbecke had far more to lose: if it lost against the HCE by a large margin and its local rivals Minden won, it faced the prospect of being relegated from the DKB German Handball League.
The team from Franconia dictated events, got off to a very good start and was soon able to open up a three-goal gap. Erlangen, who were without Sebastian Preiß and Christoph Nienhaus – the entire central block – in defense through injury, switched very fluently between defense and attack and so managed to score easy goals. Unfortunately, the team of Robert Andersson again missed a number of good scoring opportunities and so was not able to open up a more decisive gap in the first half. Lübbecke took its chances better toward the end of the first half and the HCE went in at half-time leading by just one goal (12:13).
After the break, the game picked up where it had left off in the previous 30 minutes. Lübbecke came out far stronger and finished its attacks with greater purpose. Erlangen was able to keep things evenly poised until midway through the second half. Ole Rahmel (8) and Nikolai Link (6) were the top scorers for their side. Drago Vukovic, Jens Schöngarth and Maximilian Schubert decided the encounter in favor of the home side. HC Erlangen's professional will now have a break until the beginning of July and then start preparing for the next season.
Robert Andersson (Head Coach of HC Erlangen): "My players produced a very strong first half today and unfortunately failed to capitalize on the chances that came their way. Now we're off on vacation and will then focus all our efforts on our objectives."