Bamberg
Euroleague: Brose Baskets beat previously undefeated Malaga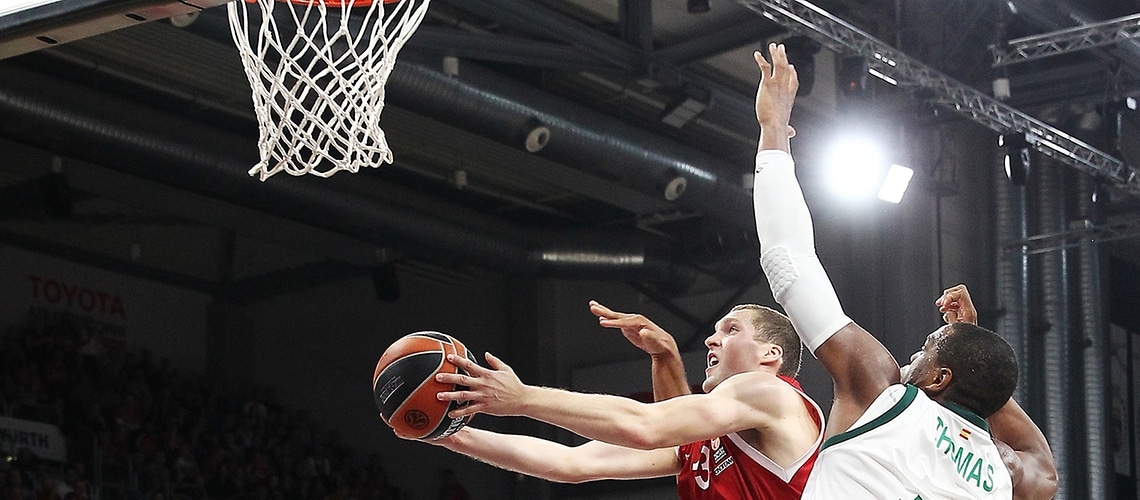 Bamberg, 11-20-2015
That was a victory in the Euroleague that deserves a lot of exclamation marks! The German champions Brose Baskets sent previously unbeaten top-of-the-table Unicaja Malaga packing from the Brose Arena by 73:53. After 36 minutes, when Bamberg's Head Coach Andrea Trinchieri took his key players off and gave his youngsters time on court, Bamberg was even leading by 70:42. New signing Leon Radosevic also celebrated a magnificent debut.
In midweek, Brose Baskets signed up the 25-year-old Croatian Radosevic until the end of the season; the previous center Gabriel Olaseni will be loaned out to Gießen 46ers. Unlike Olaseni, Radosevic has been able to gather a lot of experience in the Euroleage in the past two years during his spell with Alba Berlin – and that benefited his new team on his debut. In the first period, Brose Baskets had to contend with the Spanish club's defense and petty refereeing: Malaga, the only unbeaten side in the Euroleague going into the encounter, took a 5:11 lead – and, funnily enough, Bamberg was ahead in the foul count (7:0). However, Trinchieri's team adapted better to the refereeing and began to erect a wall of stone in defense after the bucket from beyond the arc by the former Bamberg player Jamar Smith (18:22). The visitors could now find no way through the home side's defense, whereas Trinchieri's players celebrated rapid offensive basketball at the other end: the ball and freestanding players moved quickly, enabling a mass of open shots to help the German champs produce a 19:3 run and surge 37:25 in front. That was also due in great part to new signing Leon Radosevic, who made all his three shots with a lay-up and from the half-distance. Bamberg went in at half-time with an eleven-point cushion (40:29).
If anyone expected a show of defiance from the top-placed team after the break, they were to be disappointed: Brose Baskets tightened up their defense even further, with the result that their opponents from Andalusia managed to add just a meager eight points in the third period. In particular Darius Miller (11 points), who was dogged by bad luck in the opening minutes of the game when he committed three fouls, now scored from all positions and, with his eight points, played a major role in putting his side 60:39 ahead after the third quarter. Top scorer Janis Strelnieks (14 points) and Brad Wanamaker (13) also displayed accurate shooting. Leon Radosevic then produced a huge roar from the home fans with a monster block against Jamar Smith, sprinted down court on Bamberg's swift counterattack, drew a defender to him and so enabled Nikos Zisis to pass to the freestanding Darius Miller, who drained the bucket from outside to make it 70:42, the highest lead of the evening, after 36 minutes – a fast break right out of the basketball textbook. Trinchieri then rested his key players, which the Spanish side exploited to put a better complexion on the final result.
Andrea Trinchieri commented: "The best thing was that the early fouls did not influence our aggression. We kept on beavering away in defense and displayed a great attitude. Everyone was focused and helped out in defense. When you keep Malaga down to just over 50 points, you've done a good job. Leon Radosevic fits well in our squad. He's young, but already experienced. He knows the game. And I believe he has good teammates who'll make it easier for him to slot in. It's a step toward the Top 16. I just don't know if it's a big or a small one."
Brose Baskets now face their next serious game on Monday, November 23 (tip-off: 8 p.m.), when Phoenix Hagen, thirteenth in the German League, come to the Brose Arena.