Málaga
Euroleague: Brose Baskets produce a strong shooting display, but still lose narrowly in Malaga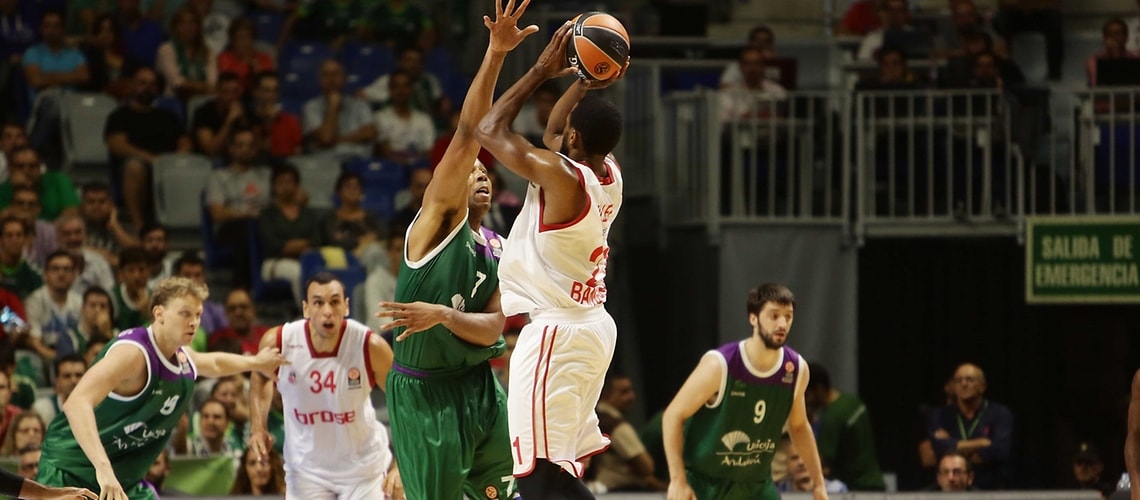 Málaga, 10-14-2015
Brose Baskets could have come away with more after 40 minutes in an evenly balanced encounter that they nevertheless lost narrowly, as the German champions started their Euroleague campaign with a 71:76 defeat on the road at Unicaja Malaga. The main reason for that was their rebounding: the players of Head Coach Andrea Trinchieri allowed the opposing side from Andalusia to snap up an incredible 17 offensive rebounds and so fire 20 shots more at the basket.
Brose Baskets were superior to Malaga in just about all the game statistics, but two negative aspects stood out: the 17 offensive rebounds by the Spanish club and the 15 turnovers Bamberg conceded. As a result, the home side was able to make up for its weaker shooting percentage (30 buckets out of 66 attempts = 45%) compared with Bamberg in the Palacio de Deportes. The strong shooting percentage of 58 by the visitors (27 out of 46) was not enough to win the game.
Yet things looked good for the German champions, especially in the first half, when they quickly struck back after trailing: with the score at 12:18, Gabriel Olaseni (6 points) tied the encounter at 18:18 after the first period. Trinchieri's team fell 22:27 behind shortly afterwards, but then hit back with its strongest spell: Janis Strelnieks' lay-up plus a bonus free throw, a slam-dunk by Darius Miller and a bucket from beyond the arc by Nicolo Melli helped Bamberg produce a run of 12 without reply and move 34:27 ahead. However, Malaga adjusted its tactics in defense after calling a timeout, forcing Bamberg into conceding turnovers as it was building its plays. As a result, Trinchieri's team went two minutes without scoring and trailed 34:36 at half-time.
The two reasons for Bamberg's defeat were especially apparent after the break: the home side was repeatedly able to have a second or even third attempt to shoot and then scored, whereas the German champions lost possession up front and were not able to put any points on the board. The third period finished with Bamberg 49:63 behind. In particular Euroleague old hand Nikos Zisis (230th game in the competition) made a valiant effort to avert defeat – the Greek player made all of his lay-ups and drained two threes in his haul of 16 points – but Bamberg did not get any closer than 69:74 thanks to a bucket from outside by Janis Strelnieks (13 points) and a lay-up from Brad Wanamaker (10) to make the final score 71:76.
Andrea Trinchieri commented: "Congratulations to Unicaja on its deserved win. The main problem was our defensive rebounding. I wasn't worried about our offensive rebounding. I told my players to take care of the defensive rebounds. At such a tough place like Malaga, you have to fight for every single rebound. The second problem for us was Kuzminskas. It was very difficult for us to defend against him."
Brose Baskets soon face their next game in the Beko German Basketball League on Sunday, October 18, when they travel to BG Göttingen (tip-off: 5 p.m.).
For more information visit www.brosebaskets.de and www.beko-bbl.de.