Bamberg
Euroleague: Brose Baskets sweep Italian champions aside and stroll to victory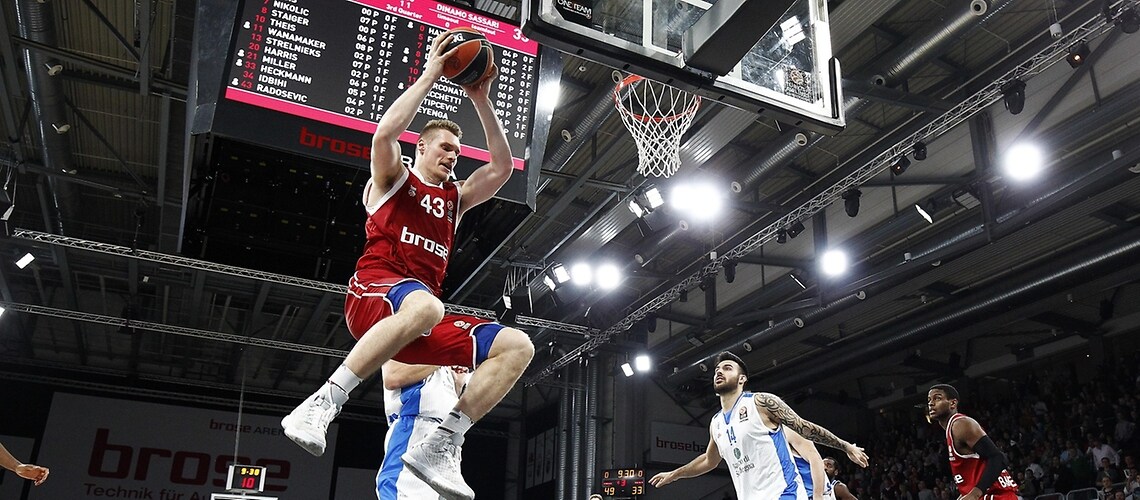 Bamberg, 12-26-2015
Qualification for the Top 16 after seven out of the ten matchdays and a positive record after the group stage (6 wins and four losses) – this season is the first time that Brose Baskets have achieved that in the Euroleague. In their final game in the group, they coasted to a comfortable 86:54 victory over the Italian champions Dinamo Sassari – although their Head Coach Andrea Trinchieri gave his key players quite a lot of rest.
That was because the encounter between the two national champs in front of a 6,800 crowd no longer had any influence on the final standings in the table. Nicolo Melli, who received the award as MVP (Most Valuable Player) in the Euroleague in November from the hands of Michael Stoschek before the game, was not even used, while the old hands Nikos Zisis and Brad Wanamaker were on court "just" 15 and 22 minutes respectively. Andrea Trinchieri did not want to risk any injuries in a game that had no importance – and yet fate was unkind to Bamberg. In a tussle just before the end of the first period, an opposing player jumped haplessly into Elias Harris. The Bamberg player suffered a recurrence of his groin injury and will undergo a magnetic resonance tomography. It is not clear how long Harris will be out. It was obvious from Brose Baskets' play that they were more cautious and not quite as physical as usual. There was a greater frequency of extra passes to a free-standing teammate and only rarely did a player take on his opponent man against man or charge through the entire Sassari defense. Bamberg squandered shots sloppily after leading 9:3, enabling Sassari to go 12:14 ahead. Top scorer Nikos Zisis (16 points, 5 assists) introduced more structure into Bamberg's attack and two buckets from beyond the arc by Daniel Theis (12 points) helped the German champs pull away to 20:14. The home side also outplayed the Italian champions in the second quarter without having to become all that physical. Lucca Staiger drained two threes to help give his side a clear 49:33 lead at half-time.
After the break, the home side tightened things up in defense and surged ahead with a run of 8 points without reply (57:33). Sassari's short spurt to close the gap to 60:47 was countered by Janis Strelnieks (12 points) and Nikos Zisis with the next Bamberg run (7:0). The youngster Aleksej Nikolic was given a lot of time on court in the final period and the 18-year-old thanked Head Coach Trinchieri with a strong performance and a wonderful bucket from outside. Brose Baskets conceded just seven points in the final quarter and so were able to celebrate their largest-ever victory in the Euroleague (86:54).
Andrea Trinchieri commented: "First, all my thoughts are with Elias Harris. We always try to prevent things like that happening, but unfortunately they occur. I hope it's nothing serious, but we have to wait and see. As far as the game is concerned: I'm happy I was able to rotate my players more. The players who've been given little time on court so far were ready, concentrated and focused today. Staiger was excellent, both in terms of shooting and passing. Nikolic also had a good day. He's just 18, but his performance was very good."
Bamberg now face a local derby against s.Oliver Baskets from Würzburg on Sunday, December 20, 2015 (tip-off: 5 p.m.). The newly promoted team is currently third in the table, two places behind Brose Baskets, and is the big surprise this season.
For more information visit www.brosebaskets.de, www.euroleague.net and www.beko-bbl.de.