Minden
HC Erlangen loses against GWD Minden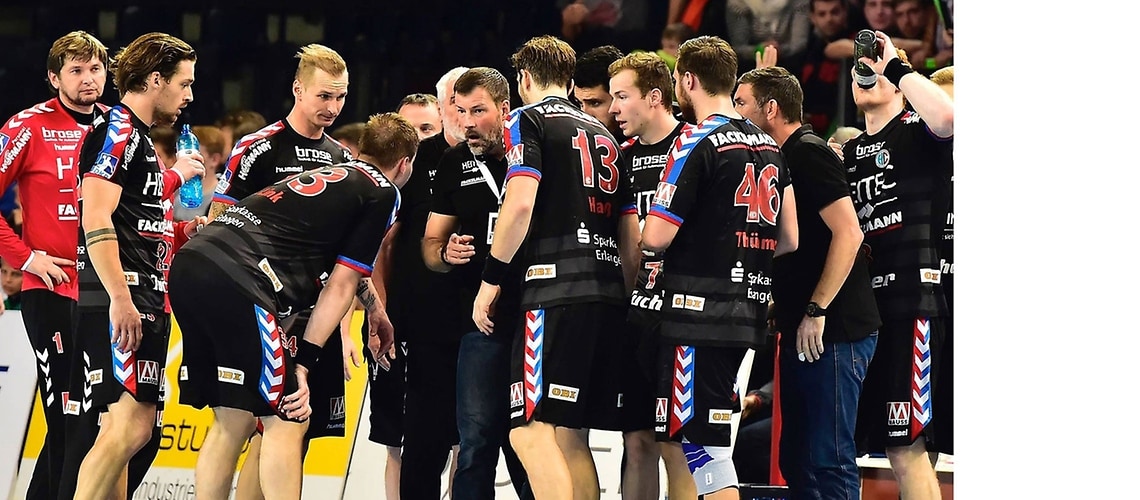 Minden, 10-07-2016
HC Erlangen lost its game on the road against TSV GWD Minden on Friday evening. The team of Head Coach Robert Andersson went down 23:24 (9:11) to the club from Eastern Westphalia and is now sixth in the DKB German Handball League after the seventh matchday in the 2016/17 season.
It was clear from the outset that this was an encounter between two newly promoted teams who know each other very well. Both sides operated from a 6:0 covering system and only conceded few chances in the opening minutes. The visitors from Erlangen were able to open up a two-goal gap over Minden for the first time after 16 minutes (5:7). After that, the number of missed shots by both teams increased and in particular Minden's goalkeeper Kim Sonne-Hansen saved impressively on several occasions. The home side capitalized on Erlangen's seven-minute goal drought to move ahead. In this spell, it was thanks to its goalie Nikolas Katsigiannis, who was back between the posts for the first time after his finger injury, that the club from Franconia only went in at half-time in the KAMPA Arena trailing by 11:9.
Right after the break, HC Erlangen was able to cut the gap on the first attack and seemed to get off to a better start to the second half. Yet GWD Minden, spurred on by a strong Dalibor Doder, never let the visitors get closer than one goal. The HC was twice unable to capitalize decisively with the other side two men short and so GWD pulled four goals ahead midway through the second half. As in the last games, Andersson's squad then demonstrated its fine morale. The league newcomers from Central Franconia clawed their way back goal by goal. Katsigiannis kept his team in the game at the back, while up front Nicolai Theilinger scored three goals between the 53rd and 59th minute to tie the encounter. After Martin Stranovsky, who converted all his three seven-meter penalties successfully, equalized with ten seconds on the clock, Dalibor Doder decided the game on the last attack and with the last throw.
HC Erlangen now has little time to analyze the game against Minden and draw the right lessons from the defeat in Eastern Westphalia: HSG Wetzlar awaits it in the Nürnberger Versicherung Arena this Saturday.