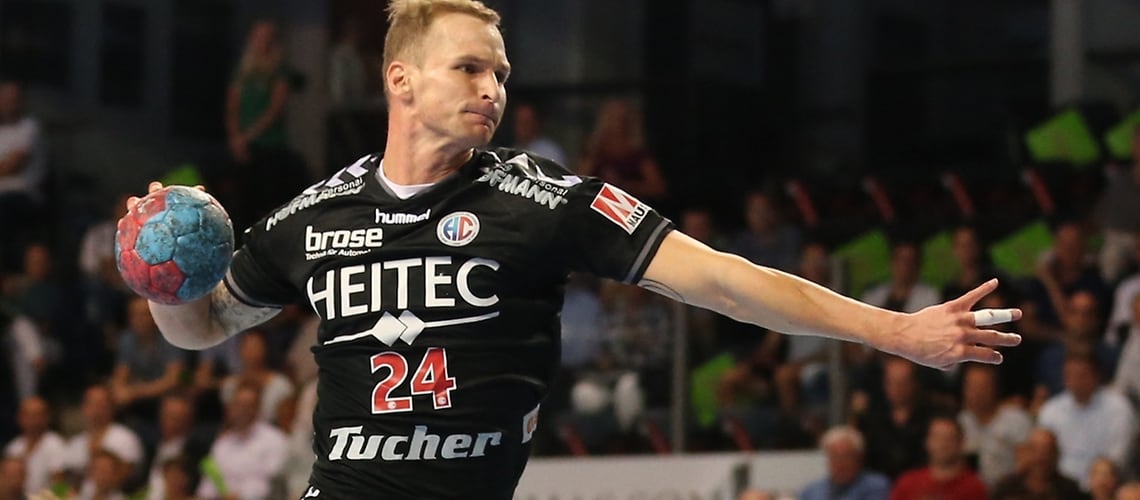 Hamm, 09-25-2015
HC Erlangen lost its third away game against ASV Hamm-Westfalen by 27:23 (14:10). Nevertheless, the team of Head Coach Robert Andersson remains top of the 2nd German Handball League.
As in previous games, the club from Franconia got off to a good start against its opponents from Westphalia and soon led 4:1. Midway through the first half, the home side from Hamm was able to keep the game evenly poised, closed the gap with its efficient backcourt and then went ahead for the first time in the 21st minute. A top-class performance by the ASV's goalkeeper Tomas Mrkva, who saved a total of ten shots from Erlangen players who were clear, gave the home side a 14:10 lead at the break.
The second half was characterized by fight, aggression and an Erlangen team that never gave up, despite trailing by 7 goals at one stage. Yet the team of Niels Pfannenschmidt, one of the favorites to gain promotion (and not just because of its display on the evening), made the right moves in many situations. HC Erlangen finally succumbed to an ASV team that played out of its skin.
The next game for HC Erlangen is this Tuesday, when its eternal rival SG BBM Bietigheim comes to the Nürnberger Versicherung Arena (throw-off: 7 p.m.). In particular, the home side's fans will be an important factor in helping the HCE capture its third straight home victory. The game in Nuremberg starts at 7 p.m.
Robert Andersson commented: "We got into the game well today, but never managed to really take it by the scruff of the neck. We now have to tick off the game and focus fully on what we need to do this Tuesday."
HC Erlangen: Stochl, Huhnstock – Theilinger (8), Link J. (1), Preiß (1), Herbst (3/1), Heß (2), Djozic, Bissel, Rahmel (3), Stranovsky (3/1), Horák, Link N. (1), Thümmler (1);