Ljubljana
medi bayreuth continues winning streak in the Champions League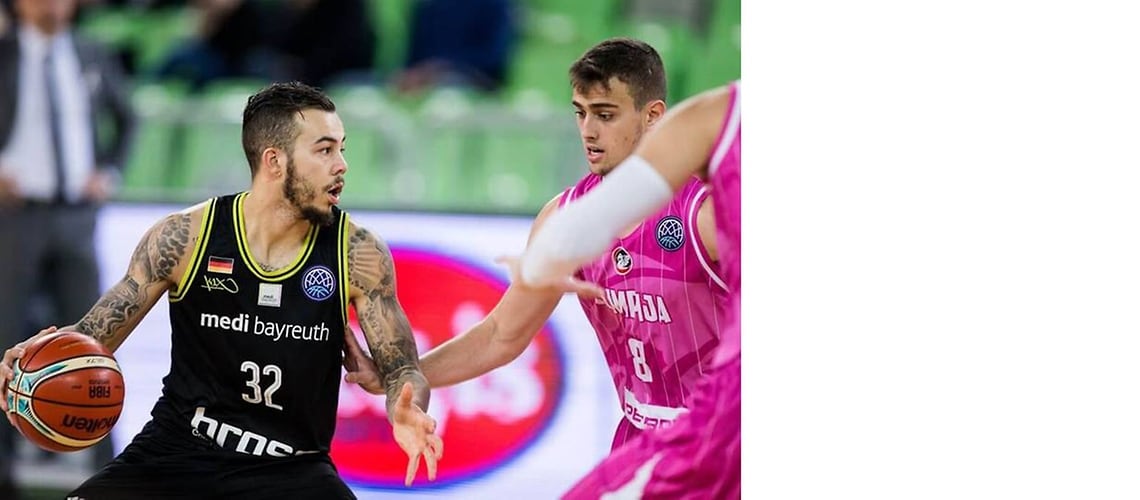 Ljubljana, 10-25-2017
medi bayreuth maintained its winning ways on the third matchday of the Basketball Champions League. On Wednesday evening, the Heroes Of Tomorrow won 90:77 on the road at Petrol Olimpija Ljubljana, a Slovenian club that has a string of national titles to its name. Since Estudiantes Madrid lost at SIG Strasbourg at the same time, the team of Head Coach Raoul Korner is thus the outright leader in BCL Group C.
For the first time this season, Raoul Korner made a change to the starting five, beginning with Andreas Seiferth at center. medi bayreuth got off to a focused start and with the energy the Head Coach had demanded. De'Mon Brooks and Gabe York soon scored from beyond the arc. Bayreuth took a double-digit lead for the first time after six minutes. However, Jordan Morgan then added six straight points for Ljubljana to cut the deficit to 20:26 after the first period.
A three by York right at the start of the second quarter helped medi bayreuth stretch its lead to 37:20. Heroes Of Tomorrow chalked up high shooting percentages in offense and also snapped up more rebounds that the Slovenian club. A brief run of five points by Domen Lorbek kindled the home side's hopes, but Bastian Doreth, who directed Bayreuth's game in this spell, hit back. medi went in at the break with a ten-point lead.
Things initially went well for medi in the third period, as Gabe York hit the mark from just about all positions. Bayreuth kept its lead to ten points until midway through the quarter, when Ljubljana got back to within striking distance with a run of six points without reply. Fortunately, the Slovenian side was not really able to capitalize on two unsporting fouls awarded against the Heroes Of Tomorrow and so the gap never dwindled to less than five points. The lead grew again to 66:58 after an important three by captain Bastian Doreth.
Whereas it was almost solely Ljubljana's American players Devin Oliver and Jordan Morgan who threatened medi's basket in the final period, Steve Wachalski really turned on the heat for the Heroes Of Tomorrow. With the gap just 70:65 in the 32nd minute, the old hand added seven points in succession to enable his team to pull away again. Wachalski drained a further three a minute later to make it 84:68 and finally break the home side's resistance.