Bayreuth
medi bayreuth secures fourth place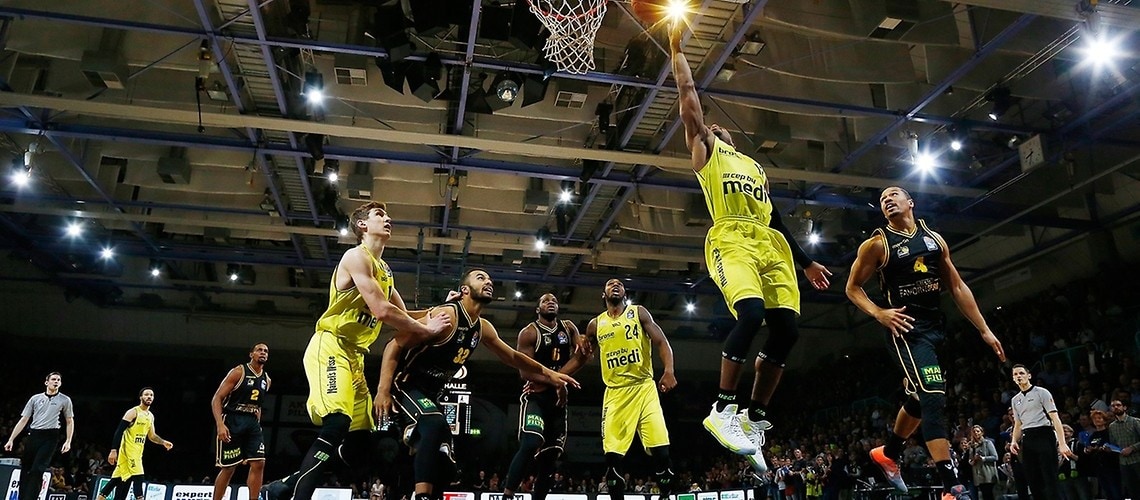 Bayreuth, 04-23-2017
medi bayreuth's already breathtaking season this far has been enriched by yet another highlight: The victory by the Heroes Of Tomorrow over GIESSEN 46ers on the 32nd matchday of the easyCredit German Basketball League means the team of Head Coach Raoul Korner has not only qualified for the playoffs, but is also ensured of home court advantage in the first round.
3,228 spectators in a packed Oberfrankenhalle were eventually able to celebrate a 89:79 (44:35) victory over the club from Hesse, the 21st win of the season for the Heroes Of Tomorrow, who set about their mission of achieving home court advantage with great concentration and focus right from the tip-off. Driven on and directed by a very strong Nate Linhart, medi bayreuth took command from the outset and carved out a solid lead at half-time against a strong Gießen side, thanks to an outstanding 3-point field goal percentage in the second period.
It was above all Steve Wachalski who made the difference. The veteran notched up a total of 14 points and did not miss a shot in the entire game. The statistics for center Assem Marei were also striking: The Egyptian chalked up another double-double with 15 points and 14 rebounds.
Despite these excellent statistics, the victory by the Heroes Of Tomorrow was, on the whole, the result of an all-round team performance. They again played with intensity in defense from the start and moved the ball well in offense for long spells, always searching for a better-positioned teammate – an aspect that Head Coach Raoul Korner was visibly pleased about afterwards.