Würzburg
s.Oliver Würzburg defeats Göttingen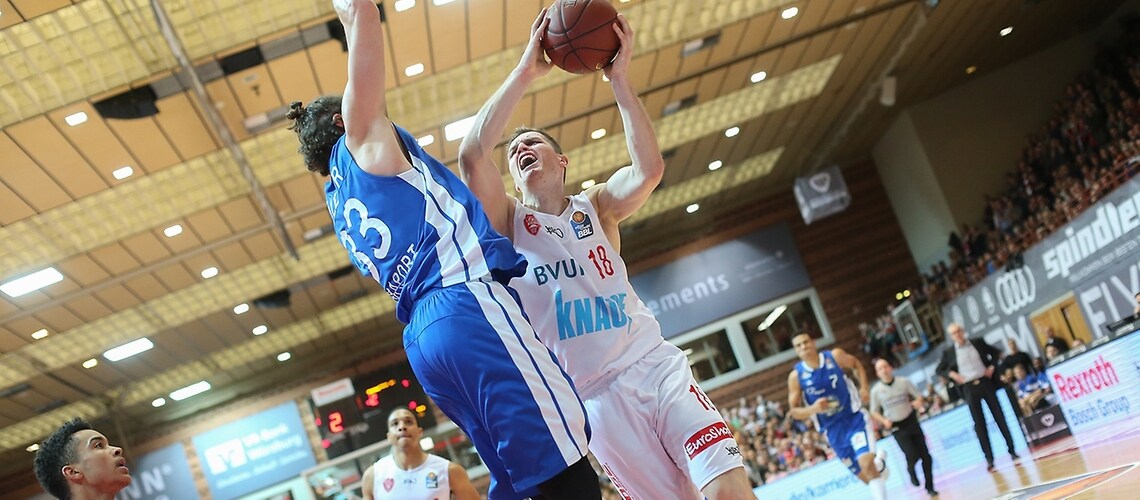 Würzburg, 02-09-2018
A convincing win against BG Göttingen: Thanks to an all-round team performance, s.Oliver Würzburg captured its seventh home win of the season on the 21st matchday and remains in touch with the playoff spots. In the 95:82 win by a margin that was also absolutely deserved, five Würzburg players chalked up a double-digit haul – foremost Cliff Hammonds and Robin Benzing with 16 points apiece. The game's top scorer was Göttingen's Brion Rush with 23 points.
3,007 spectators in the s.Oliver Arena saw a game of two completely different halves: Before the break, the encounter was evenly poised and the lead changed hands a dozen times, in some cases by the minute. In the third period, the home side was quickly able to extend its narrow lead at the break to double digits – and the Violets were no longer able to recover from that in the rest of the game.
Head Coach Dirk Bauermann began with Cliff Hammonds, Maurice Stuckey, Felix Hoffmann, Robin Benzing and captain Kresimir Loncar in an encounter that proved to be a very changeable affair in the first period. Both teams had difficulties in attack to begin with, but that changed as of the 6th minute when the team from Lower Franconia was able to pull away to 17:12 in the 8th minute, before the opposing side from Lower Saxony struck back to go 19:20 ahead at the end of the period.
The game continued in a similar vein in the second quarter: First of all, the visitors completed a 15:2 run straddling the periods to make it 21:27, then the home side turned on the pressure. It produced an 11:2 run to move 32:31 ahead in the 16th minute – initiated and finished by Clifford Hammonds, who apparently relishes playing against BG Göttingen. In the earlier league game between the two, Würzburg's co-captain scored 16 points and so posted his season-best haul. It was also the father of five who was responsible for the lead changing hands for the last time in the game: He finished a fast break as the clock ran down in the second period to give his side a narrow 43:41 lead at the break.
"We're looking forward to the next home game against Erfurt this Friday, because we also have something to make amends for then," said Head Coach Dirk Bauermann afterwards.