Minden
BHC breaks the spell in Minden and captures its first win on the road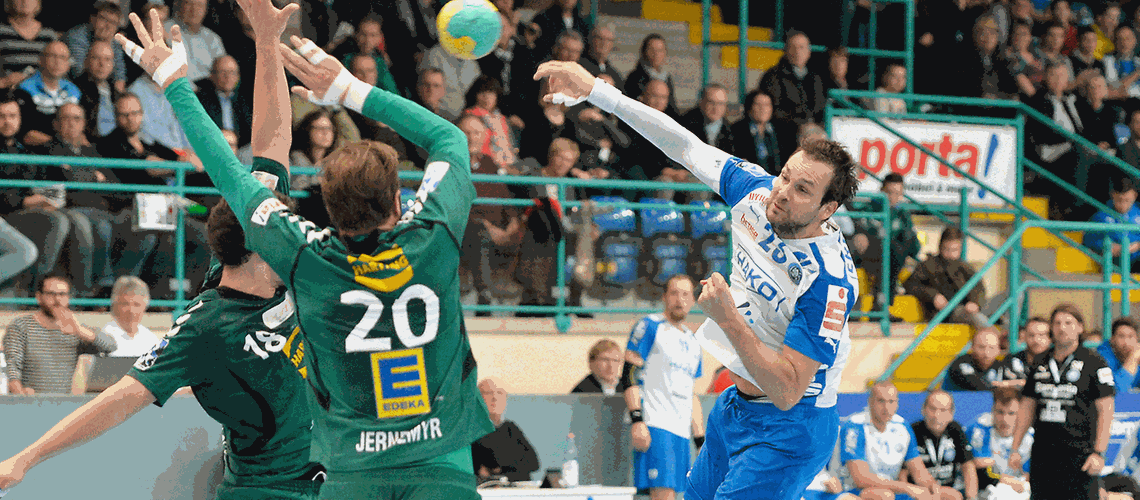 Minden, 02-21.2015
The Bergische Lions' long wait for its first away win of the season is finally over – and of all teams, it was against their direct relegation contenders from Minden. The BHC ran out highly deserved winners by 28:30 (12:16) in a "four-pointer" in the battle to remain in the top flight.
All in all, the two teams produced a physical game – after all, important points in the battle to stay up were at stake in this direct encounter between two candidates for relegation. Miladin Kozlina overdid things with a pretty rough tackle in the style of a sumo wrestler against Benjamin Meschke, who nevertheless managed to make it 7:8 in the 16th minute, as a result of which the Minden player conceded his second time penalty. A terrible pass by Milos Dragas almost let the home side tie the scores while short-handed, but Mario Huhnstock parried the fast break by Doder and Kristian Nippes went down the other end to extend the lead to 7:9. When Minden closed the gap to 8:9, Mario Huhnstock ironed things out again and Milos Dragas twice did a better job than Jan Artmann before him, who failed to beat Gerrie Eijlers on a fast break – and enabled the Bergische Lions to go 8:11 ahead in the 22nd minute. Minden was able to keep the gap down to three goals, but then Viktor Szilagyi was quick to react with a few seconds left and, with his team short-handed, gave his side a deserved 12:16 lead at half-time.
Right wing Arnor Gunnarsson opened the scoring in the second half: the tall player switched to the inside and produced a huge jump to hammer the ball in from the backcourt (12:17 in the 32nd minute). The parties then became more hectic and both teams increasingly made technical mistakes. In the final ten minutes, the 2,770 spectators in the Kampa Hall once again saw how the home side put enormous pressure on the BHC after Svitlica made it 22:23 with a seven-meter penalty. Yet the Lions repeatedly managed to open up a crucial cushion and, with a man extra, went ahead 25:27 through Arnor Gunnarsson, after which Björgvin Pall Gustavsson saved a shot from the wing and Fabian Gutbrod made it 25:28 in the 58th minute to seemingly seal the game. However, Minden summoned up all its resolve for one final effort and reduced the deficit to 27:28 in the final minute – however, the BHC displayed strong nerves to withstand the pressure in this situation and, thanks to goals by Maximilian Hermann and Alexander Oelze and another important save by Gustavsson, was able to celebrate its first away win of the season with the more than one hundred fans who had made the journey. As a result it has increased its distance from a relegation spot and increased the pressure on the competition.