Bamberg
Brose Baskets conserve their energy and stroll to a 91:61 win over MBC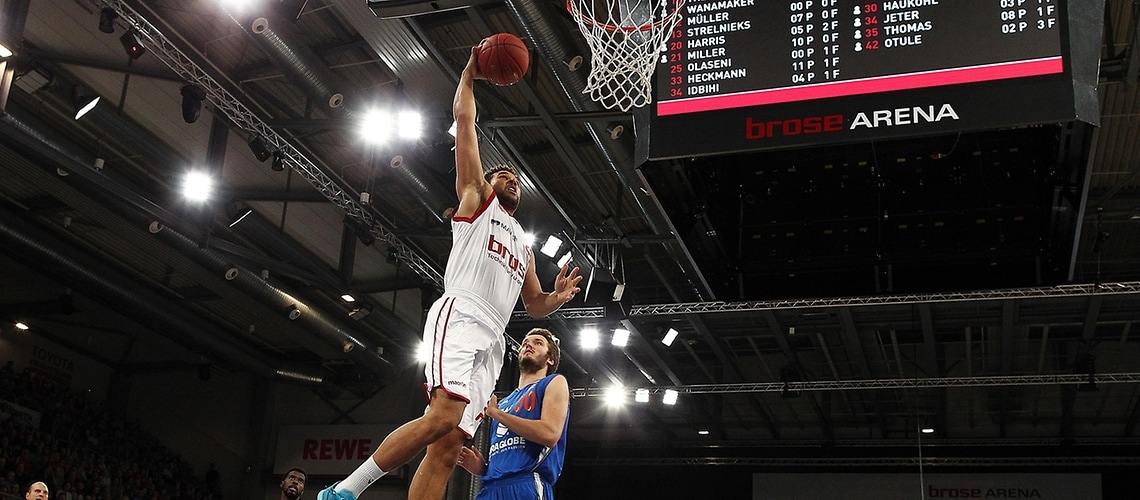 Bamberg, 11-10.2015
That was a comfortable home win for Brose Baskets! The German champions did not give bottom-of-the-table Mitteldeutscher BC, who has still to win a game this season, a whiff of a chance in a 91:61 trouncing. After a strong second period and a 51:28 cushion, Head Coach Andrea Trinchieri was able to rest his key players – but Bamberg still strolled to victory ahead of the important Euroleague duel in Sassari.
Due to muscle problems, Nikos Zisis sat on the bench from the outset – Head Coach Andrea Trinchieri wanted to give him a break in a tough week where Brose Baskets also have midweek games. Yet even without the stalwart, who played such a key part in the victory in Tübingen, Brose Baskets made it clear from the tip-off that they wanted to seal the game quickly. With aggressive defense, the home side forced the outclassed MBC to concede three turnovers in its first five attacks and soon opened up an 8:1 gap thanks to Nicolo Melli (11 points). However, Trinchieri's players then became a little careless, allowing the MBC to cut the deficit to 20:18 by the end of the period. Bamberg was more focused in the second quarter, especially in defense. Top scorer Darius Miller (15 points) gave his side its first double-digit lead (31:20) with a bucket from beyond the arc, while Patrick Heckmann bagged nine out of his total haul of eleven points in the second period to give Bamberg a wide lead at half-time (51:28).
Brose Baskets did not slacken their grip after the break, either: Elias Harris, in the unfamiliar position of center, produced a strong performance, powerfully burrowed his way to the basket a number of times, snapped up four offensive rebounds and drained a fine three on his way to a total of eleven points to put Bamberg 56:28 in front. Trinchieri gave his youngsters a lot of time on court, especially in the second half. Aleksej Nikolic, a 20-year-old Slovenian from Baunach Young Pikes, made his debut in the German first division. The playmaker built Bamberg's moves for a whole 22 minutes and did a very decent job, scoring eight points himself and making two assists. After Darius Miller scored a slam-dunk after a pass by Nikolic to make it 76:36 at the start of the fourth period, Trinchieri put a very young lineup on court.
Andrea Trinchieri commented: "We have tough weeks with five games in eleven days. Today was the third game and our experienced players Wanamaker, Strelnieks and Harris were very focused going into the game. Others showed less resolve. Heckmann, Staiger and Müller lacked concentration at times. Theis had a weak start, but played a good second half. At the end of the day, we won the home game."
Brose Baskets now face a crucial tussle in Europe's top club competition, the Euroleague, when they travel to Dinamo Banco di Sardegna Sassari on Friday, November 13, 2015 (tip-off: 8:30 p.m.). The Italian club is still without a win and Trinchieri's team can give itself a two-win cushion over fifth place in the table with a victory on the road. Fourth place is enough to qualify for the Top 16.