Bamberg
Brose Baskets lose after leading by a wide margin at half-time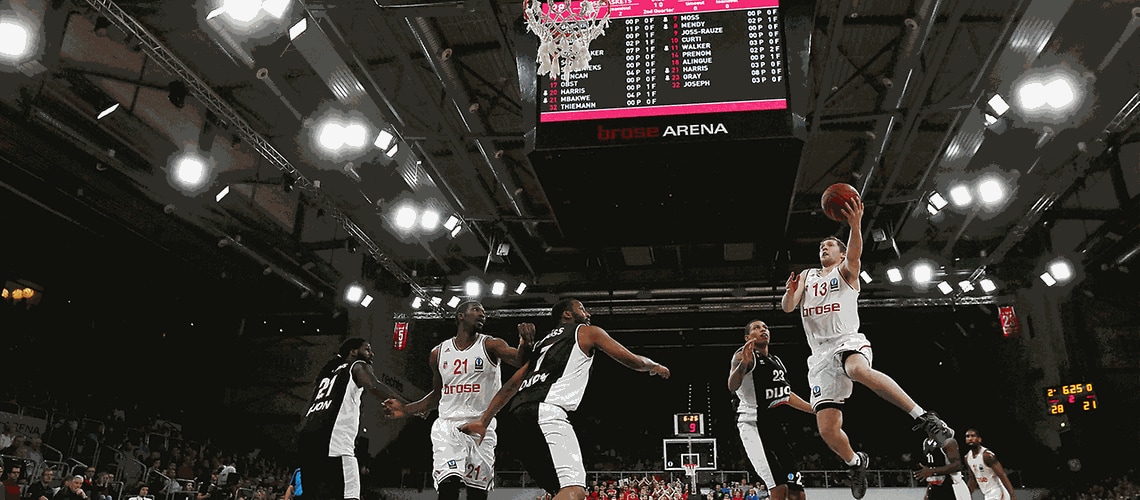 Bamberg, 01-21.2015
Brose Baskets have suffered a home defeat in the Eurocup. Despite taking a comfortable 41:29 lead in at the break, the team of Head Coach Andrea Trinchieri threw victory away against the French club JDA Dijon, which had not won a game going into the encounter, and lost 81:86 after a weak second half. As a result, Bamberg has squandered the good platform for advancing to the next round it created by winning away in Ljubljana.
Brose Baskets ought to have been warned of Dijon's strong shooting. Although the home side went 11:4 in front, the visitors quickly tied the scores at 13:13 with two buckets from beyond the arc. After that, Bamberg controlled the opposing side from Burgundy – Ryan Thompson securely drained three shots from outside and Trevor Mbakwe (10 points) snapped up five rebounds at the back to deny Dijon the chance of a second attempt. A run of 13 points without reply meant Trinchieri's team took the first period by 26:13.
Although Dijon closed the gap to 28:21, top scorer Brand Wanamaker (21 points) and Janis Strelnieks (12) stretched the lead to 15 (39:24) and the home side took a twelve-point cushion in at half-time (41:29).
However, Bamberg was not able to hold onto the lead for long after the break. The French side got more and more into its stride in attack and picked up five offensive rebounds and added eight points off them in the third period. In addition, the smallest man on court, the 1.72-meter playmaker Erving Walker, bagged three buckets from beyond the arc, despite tight defending by Bamberg. The upshot: Dijon went ahead for the first time after 28 minutes when Andre Harris drained a three (51:52). Ryan Thompson (19 points) helped secure a narrow lead for Bamberg going into the fourth quarter (58:56) and was able to hold into it in an end-to-end tussle up to the 36th minute (71:68), but two offensive rebounds snapped up by Dijon had serious consequences for Bamberg and sealed its defeat: the home side failed to pick up the rebound twice in a row at the back and the visitors capitalized by scoring twice from beyond the arc. Although Brad Wanamaker tied the encounter at 79:79 with 33 seconds left on the clock, Steven Gray gave his side an away win with his fifth three-pointer with ten seconds to go (79:82).
Andrea Trinchieri commented: "Dijon deserved to win. It played very good basketball in the second half, whereas we showed our immaturity. We simply stood and watched on when their shooters lined up five three-pointers without changing our approach or attitude. We didn't defend. 57 points conceded in the second half is a disaster. We lost the game in the rebounding department and at the three-point line. The only thing we can do now is to work even more and better. I really believe that everyone can influence his fate in some way. Our players now face a clear situation. We've shown we're not good enough at this level – either we accept that without trying to change it or we work harder and try and mask our weaknesses. Because everyone has their weaknesses. The key in a game is to maximize your strengths and not show your weaknesses."
Brose Baskets now have an away game in the German league against Frankfurt Skyliners on Sunday, January 25, 2014 (tip-off: 3 p.m.). New signing Dawan Robinson, who is intended to ease Bamberg's worries in the point guard position, is eligible to play for the first time.