Braunschweig
Brose Baskets start with a win and extend Trinchieri's contract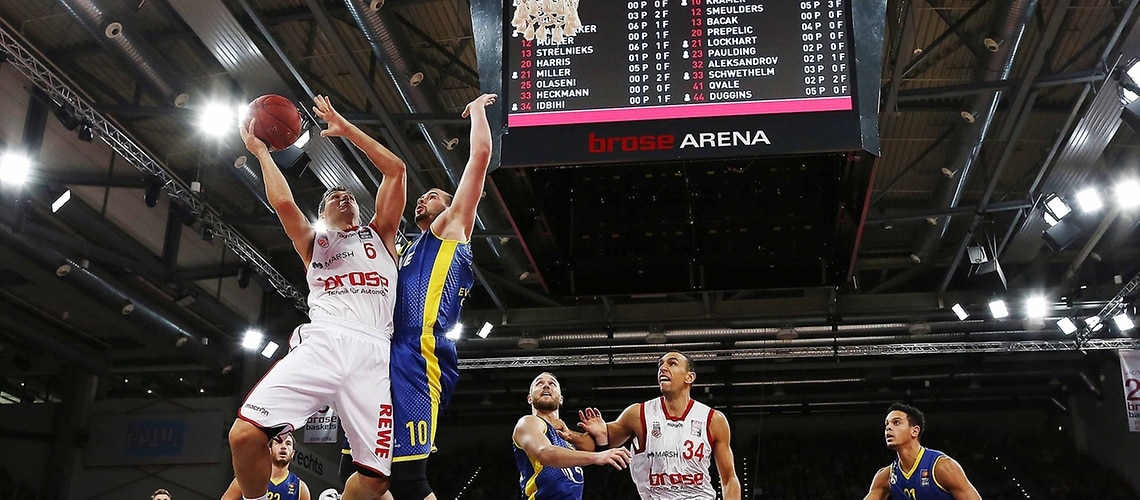 Braunschweig, 10-04.2015
Brose Baskets and their fans had two reasons to celebrate on Sunday: First, the team got the new season off to a successful start with a 79:63 victory on the road against Basketball Lions Braunschweig; second, Head Coach Andrea Trinchieri (48), who led the club to the championship title last year, extended his contract by another year.
Brose Baskets and Trinchieri had an option whereby both of them could extend the contract after the current 2015/16 season. That has now been amended and the Italian Head Coach will definitely stay with Brose Baskets until the end of the 2016/17 season. The reigning champions also got off to a successful start to the regular season in the Beko German Basketball League: exactly a year ago, Bamberg lost its away game in Braunschweig by 66:77 after conceding 11 points without reply in overtime. The bitter memory of that was still alive, in particular among Brad Wanamaker and Janis Strelnieks from the championship-winning side – and the two key players made amends by finishing as joint top scorers (17 points each) to help their side to a relatively comfortable 79:63 win on Sunday afternoon.
Yet Brose Baskets did not get off to the best of starts: the home side Braunschweig led 10:4 after a few minutes thanks to two wild buckets from beyond the arc and it was only then that Brose Baskets stepped up their game. Driven on by Wanamaker and Strelnieks, Trinchieri's team closed the gap point by point and Darius Miller tied the scores at 14:14, after which new signing Lucca Staiger gave Bamberg the lead for the first time (19:17) and Daniel Theis added a slam-dunk and bonus free throw to put his side 22:19 in front at the end of the period. Especially in the second quarter, the titleholders showed what they can be capable of in the 2015/16 season: uncompromisingly tough defending that let Braunschweig score a meager six points, as well as rapid, athletic and variable attacking basketball at the other end. For a whole six-and-a-half minutes, Trinchieri's team prevented their opponents from Lower Saxony from putting a single point on the board and opened up a decisive 43:22 lead in this spell thanks to eight points from Janis Strelnieks and two lay-ups by the new center Gabriel Olaseni. Brad Wanamaker drained another three to make it 48:25 at half-time.
With that clear lead behind it, Bamberg suffered lapses in concentration in the second half and so Braunschweig was able to creep back into contention (59:51). Brad Wanamaker and Janis Strelnieks then added two important lay-ups (63:51), Braunschweig buried a bucket from outside, which Nikolaos Zisis responded to in kind (68:56), then playmaker Wanamaker sealed the encounter with a three plus a bonus free throw to make it 72:56 with four minutes to go.
Head Coach Andrea Trinchieri commented: "There's a very simple reason why I extended my contract: I like working at Brose Baskets, I'm part of an excellent organization, I love the fans here and I like my team. It was a logical consequence to extend the contract. As for the game, we started well and particularly in the second period we defended and moved the ball well. We lost our focus after the break and Braunschweig came back. However, we still controlled the game. The first game on the road is never easy. And so it was a good win."
Brose Baskets now face their first home game of the new season on Wednesday, October 7, when Crailsheim Merlins come to the Brose Arena (tip-off: 8 p.m.). The Merlins, who only stayed up in the Beko German Basketball Leagues thanks to a wildcard, made the other teams sit up and take notice last weekend by beating playoff candidate Telekom Baskets Bonn by 91:89.
For more information visit www.brosebaskets.de and www.beko-bbl.de.