Sulzdorf
Dinkel and Stoschek at the Grabfeld Rallye: Test of endurance for man and machine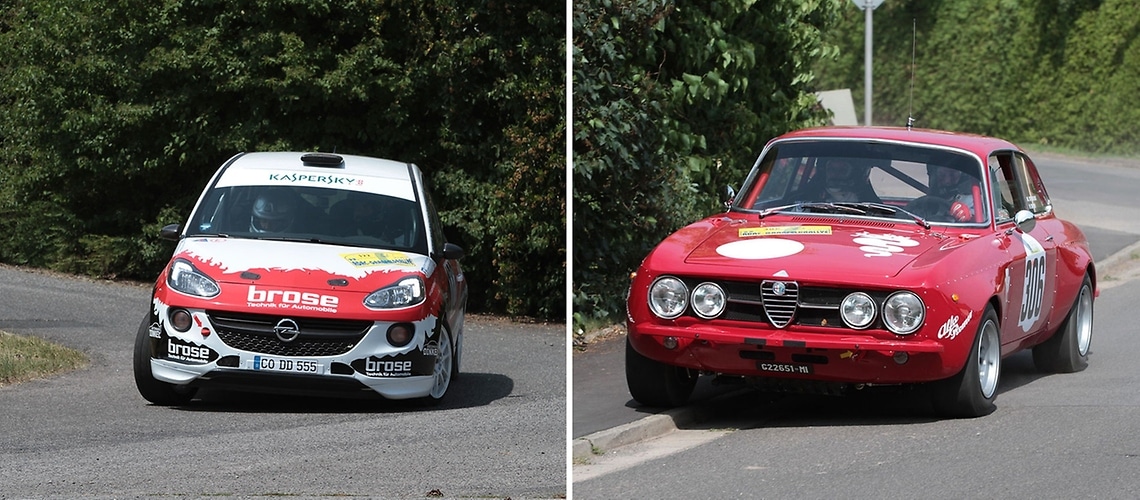 Sulzdorf , 07-04.2015
198 rally teams lined up last Saturday in the Rhön region for the 2015 ADAC Grabfeld Rally, the 22nd time the event has been staged. Also there were the Brose Motorsport Team with Michael Stoschek (pilot) and Philip Späth in an Alfa Romeo GTAm, which had been refurbished over the past twelve months and was to undergo its first test, as well as Dominik Dinkel with co-pilot Johannes Kastl. The rally and the prevailing subtropical temperatures close to 40°C demanded everything of the participants and well as the cars. Quite a lot of spectators came to watch the trials and, armed with cool boxes and sunshades, congregated at the few places that were in the shade.
Whereas Stoschek/Späth went ahead of the field to test various settings, Dinkel wanted to use the Grabfeld Rally to prepare for his first foreign outing in Barum. The young driver from Rossach started from position number 122 and had to cope with dirty road conditions due to his late start. Yet Dinkel was able to hold his own: on the first trial, he gave a clear demonstration of how strong he is in his Brose Opel ADAM. His time of 3:37 minutes was just 13 seconds slower than the fastest finisher, Raphael Ramonat in a Mitsubishi EVO 7. Dinkel was also able to establish himself among the top 15 in the subsequent trials. In the end, Dinkel/Kastl came 15th overall and were the best team in a front-wheel drive vehicle. Their winning margin in the RC4 class was more than two minutes.
The next outing for the Brose Motorsport Team and Michael Stoschek with Dieter Hawranke is the Due Valli Rally in Verona from July 23–25, 2015, in the tried-and-proven Porsche Carrera 3.0 RS.