Liezen
Dinkel produces a noteworthy performance in Austria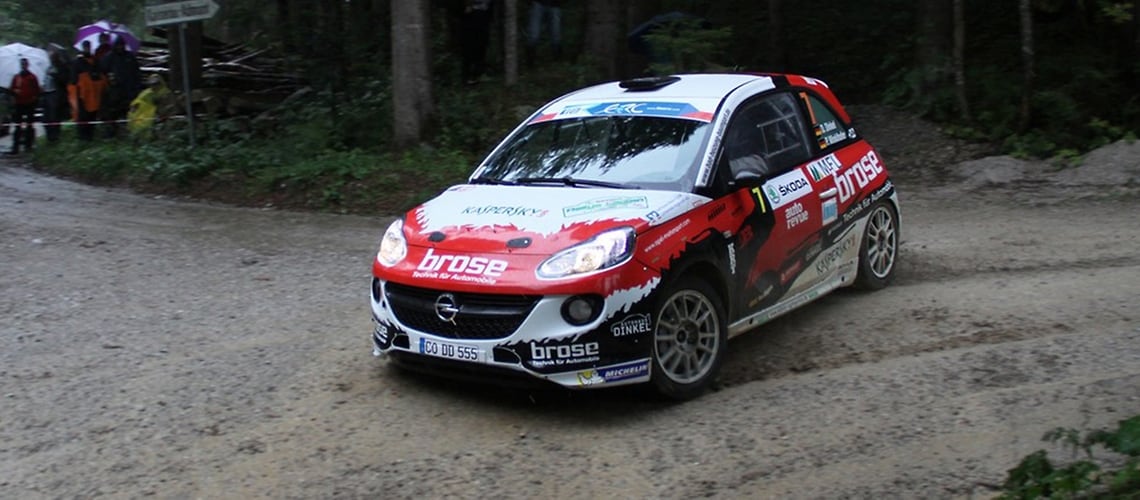 Liezen, 09-05.2015
Dominik Dinkel and co-pilot Pirmin Winklhofer lined up at the 2nd Skoda Rally in Liezen, Austria, last weekend and the two of them were totally motivated following their successful weekend in the Czech Republic.
The rally around Liezen began on late Friday afternoon. Dominik Dinkel got into his stride right away and was able to keep up with the times of the more powerful R3 cars in his Brose ADAM R2. Only a small spin cost him some time, but he was able to hold on to his starting place, seventh.
Then came the rain overnight. Unfortunately, the choice of tires proved wrong and so the young pilot from Rossach had to visibly fight to keep the Brose ADAM R2 on the road. A puncture on the seventh trial "Dietmannsdorf – Bärndorf" then made the tussle for victory in the class unnecessarily tense.
Dominik Dinkel also damaged a tire on the eighth trial "Weißenbach Circuit". The road conditions worsened more and more – the soggy surface meant that large stones were exposed, resulting in the next incident of tire damage. "That's not rallying anymore", said Dinkel.
The service crew worked perfectly during the break and, with the right choice of tires, the youngster from Rossach posted several fastest times in the 2WD division (vehicles without all-wheel drive). The two drivers again blazed the way on the last trial of the day, the circuit in Liezen. They underscored their outstanding result with the fourth-best time overall in trial 15. An overjoyed Dominik Dinkel and Pirmin Winklhofer were rightly feted for their final result: fifth overall, first place in their division and the best car without an all-wheel drive – a top-class result for the young man from Rossach on his debut in Austria in the Brose Opel ADAM R2.
Such outings are only possible thanks to the special support of Michael Stoschek, the EX-FIA Historic European Champion, with his Brose Group and Kaspersky.
The next event on the program is the Baden-Württemberg Rally on October 9 and 10.
We wish him every success!