Bamberg
Elias Harris scores in final seconds to put Brose Baskets into the last sixteen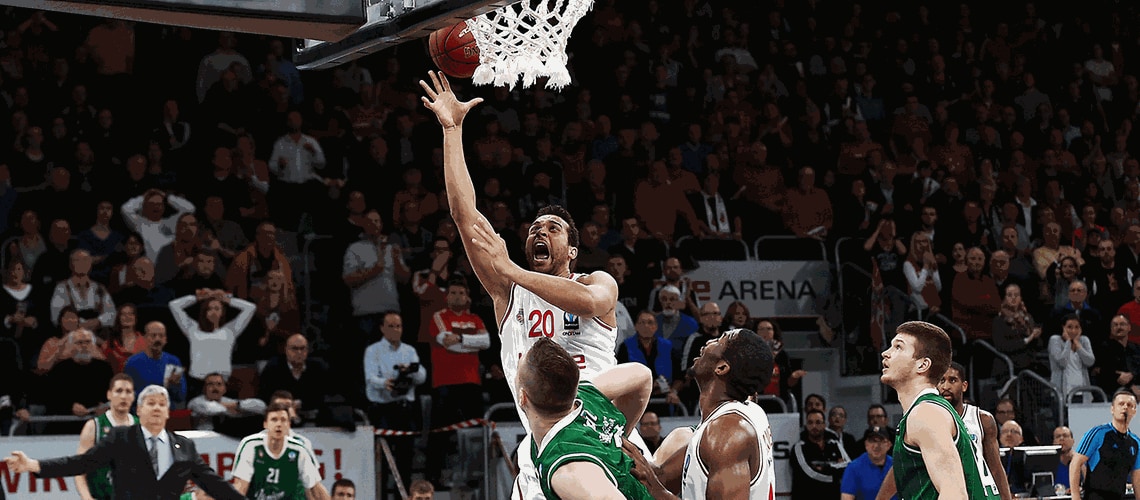 Bamberg, 02-04.2015
Brose Basket snatched victory in a highly dramatic nail-biter against Union Olimpija Ljubljana with a narrow 91:90 win after overtime to qualify for the last sixteen with one matchday still remaining in the round of the last 32. The match-winner was Elias Harris, who stormed through two Slovenian players with 2.4 seconds left on the clock to score a lay-up.
From the opening seconds, Brose Baskets had to contend with incredibly petty refereeing, with many contacts in defense being called as fouls. Helped by the fact that Ljubljana's Hristo Nikolov had three fouls to his name after just two-and-a-half minutes, Bamberg went 10:2 ahead with two lay-ups by Dalibor Bagaric, a bucket from Brand Wanamaker and two buckets by Ryan Thompson. However, the Slovenian side then attuned a lot better to the referees' tough line, was promptly no longer penalized for fouls and was able to earn ten free throws as a result of fouls by Bamberg up to the end of the period. The upshot: Ljubljana closed the deficit point by point and went 16:17 in front shortly before the end of the first quarter. Although Trevor Mbakwe and Janis Strelnieks struck back to give Bamberg a 20:17 lead after the first period, the team of Head Coach Andrea Trinchieri was not able to shake off its opponents after that. On the contrary: after Karsten Tadda's wild bucket to make it 26:22, it was in particular Ljubljana's former Berlin player Marko Marinovic who turned on the heat to score two buckets from beyond the arc – and in the space of three minutes and thanks to strong plays by the 2.17m center Alen Omic, Ljubljana went ahead by 32:41. Janis Strelnieks was at least able to reduce the gap to 35:41 at half-time with three free throws.
However, Andrea Trinchieri found the right words in the dressing room: a quick 7:0 run through Ryan Thompson (16 points) and Brand Wanamaker (16) put Bamberg 42:41 in front, and the home side went into the final ten minutes of normal time with a four point-lead (57:53) thanks to a strong showing in the third quarter (22:12). Old hand Dalibor Bagaric (8 points) and Karsten Tadda with a three made it 66:58 for Bamberg after 34 minutes, but after a timeout Ljubljana cut the gap again and then, with two minutes to go, tied the scores at 75:75. Top scorer Trevor Mbakwe, who notched up ten of his 20 points in the final period, added two slam-dunks to give Bamberg an 82:79 lead. After two free throws by the visitors to make it 82:81, Brad Wanamaker failed to clinch victory with a shot from the middle distance with 13 seconds left, which was directly followed by Wanamaker fouling Sasu Salin as the latter shot from outside – giving Ljubljana three free throws to win the game with 3.4 seconds remaining. Salin missed to the first to the jubilation of the 6,800 Bamberg spectators, but drained the second to tie the score at 82:82. Salina also missed the third one, but Alen Omic snapped up the offensive rebound for the visitors. However, Sasu Salin's lay-up only hit the hoop – Bamberg could count itself lucky that the encounter went into overtime. It was the visitors who first turned on the screws, taking an 87:90 lead thanks to a bucket from beyond the arc with two minutes to go. The home side then finally got its act together in defense: whereas Ljubljana failed to score, Trevor Mbakwe won three important rebounds and Brad Wanamaker produced an exquisite pass to set up Elias Harris, who notched up his first points of the game with a ripping slam-dunk to make it 89:90. Trevor Mbakwe stopped Ljubljana's attack with a gigantic block, giving Bamberg 23 seconds for its last attack. However, Ljubljana stood solid in defense, but Brad Wanamaker saw Elias Harris out on the side line and the young German player stormed through the entire defense and made it 91:90 with 2.4 seconds on the clock. Ljubljana had one more in-bounds pass and threw the ball long down court, only to see it intercepted by Elias Harris (4 points).
Andrea Trinchieri commented: "A famous Italian soccer player always used to say you should celebrate after victories, but you have some explaining to do after defeats. So we've got something to celebrate. We've taken the club a step forward and our team has reached the last sixteen. It was an incredibly tough game in which we made a lot of mistakes. We had a lot of pressure on us and we didn't play good basketball. However, we won the game thanks to our willpower and passion – and a few crazy moves. Sometimes that's precisely the way you have to win a game."
Brose Baskets have a tough nut to crack in the last sixteen of the Eurocup, which is a knockout stage with home and away games, at the beginning of March: Lokomotiv Kuban Krasnodar, who is undefeated in all its 15 games in the competition so far. On Sunday, February 8, 2015, Brose Baskets face a game in the Beko German Basketball League on the road at relegation candidate and next-to-last Bremerhaven Polar Bears (tip-off: 3 p.m.). Bamberg narrowly won the game between the two earlier in the season by 83:82.