Oschersleben
Engelhart: Hard work rewarded with second place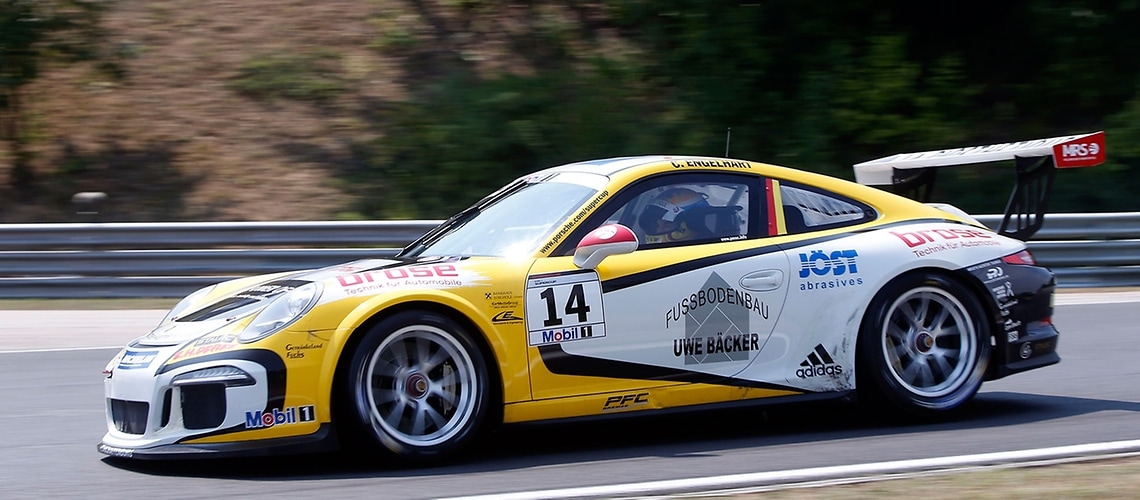 Oschersleben, 09-13.2015
An eventful weekend of racing in Oschersleben has put Christian back in 2nd spot in the championship standings.
After his car was damaged in the first race through no fault of his own, Christian crossed the line second on the Sunday to pick up crucial points.
The weekend got off to a turbulent start. Christian underscored his strong form at the moment in qualifying and captured fifth and second spot on the grid - even despite the fact that he slid on the coolant of a damaged car on his final attempt and was not able to add a fast time.
However, the first race was to prove a very short one for him. Burning with motivation, Christian was able to move up one place right at the start and took the first corner on the Oschersleben track in fourth. However, he was then hit by a rival. The hard bump on the rear axle ended Christian's race as well as that of the third- and fifth-placed drivers at the time.
True to the motto "that's racing," the team immediately began repairing the car, enabling it to line up again in the first row the next morning after a long night of work. Christian was able to reward the hard and precise work of his mechanics in the team with second place in a long race over 22 laps on the Sunday and, following the setback the previous day, fight his way back to second in the championship.
That means the pilot from Kösching is second in the Porsche Carrera Cup and in its international counterpart, the Porsche Mobil 1 Supercup, with four races to go in the season.
Christian Engelhart:
"I'd like to congratulate Philipp Eng, who has already won the title in the Porsche Carrera Cup Germany. I'll give my best shot to overtake him in the season finale to the Supercup so that we can both celebrate a title at the end of the year. We're making ideal preparations for that."