Piraeus
Euroleague: Brose Baskets go top of the table with a win at Olympiacos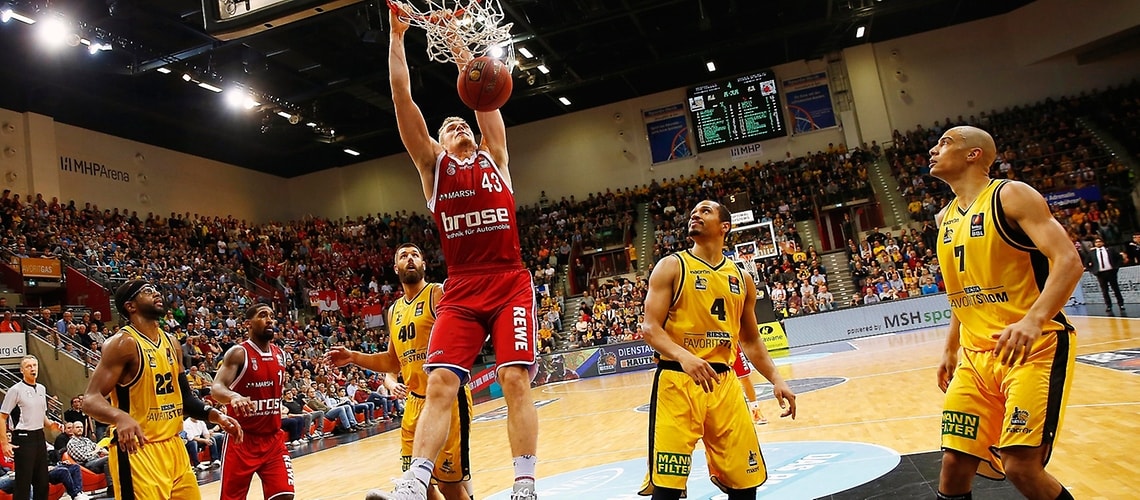 Piraeus, 01-15.2016
What huge strides forward this team has made in two weeks in the Euroleague's Top 16: 14 days ago Brose Baskets lost narrowly to the reigning Euroleague champions Real Madrid after leading by 14 points, then strolled to victory last week against Kaunas, their first-ever win in the Top 16. And this Friday, the German champions played Europe's best defense dizzy for 25 minutes in the continent's loudest arena and managed to hold onto a 55:31 lead they held at one stage to defeat last year's runners-up in the competition. The 77:72 victory at Olympiacos Piraeus means that Brose Baskets are top of Group B after the 3rd matchday.
The opening minutes were dominated by both teams' defense: Olympiacos, the Euroleague champions in 2012 and 2013, has Europe's strongest defense (with an average of 69 points conceded in the first 12 games). Yet Brose Baskets were also tight at the back and were very successful in preventing simple shots by the Greek side. Bamberg thus needed two-and-a-half minutes to get off the mark through Nicolo Melli, while Piraeus took a minute longer to tie the scores at 2:2. With Brose Baskets remaining solid in defense, Olympiacos managed just ten points in the first period. The players of Head Coach Andrea Trinchieri soon found the gaps in the Greek defense with their quick passing play. Brad Wanamaker drained a bucket from beyond the arc to make it 10:7, after which Janis Strelnieks added another (15:7) and Darius Miller followed suit to make it 18:10 at the end of the first quarter. Olympiacos then closed the gap to 25:24. However, three buckets from outside by Janis Strelnieks (15 points) and two strong lay-ups and two free throws by Leon Radosevic enabled Bamberg to take a 39:26 lead in at the break.
In the interview at half-time, Andrea Trincheri warned his team about Olympiacos' response in his customary flowery manner: "It'll start pouring now and I don't know if we have the right umbrellas with us." Yet to begin with, the game was dominated by the visitors in front of what up to then was an unusually quiet crowd of 8,000 spectators: Leon Radosevic drained three lay-ups, which top scorer Darius Miller (23 points) and Janis Strelnieks followed up with two threes (55:31). The fans now spurred on their Olympiacos – the Greek side changed its tactics in defense, Bamberg was not allowed easy shots any more and suddenly started to concede turnovers as it built its moves. With a run of 16:2, the favorites slashed the deficit to ten points (47:57) in the space of three minutes. Trinchieri's team struck back with free throws, a slam-dunk by Daniel Theis and the next three from Janis Strelnieks to make it 65:47 with seven minutes to go. The Greek side then skilfully closed down its opponents in defense and Trinchieri's team was not longer able to unfold its rapid passing game out of fear of losing possession, with the result that it was only able to score points with solo actions. Piraeus cut the gap further with every attack. Basketball legend Vasilis Spanoulis drained his first three to get his side within striking distance at 72:74 with 11.5 seconds on the clock, but Brad Wanamaker reliably buried two free throws to make it 72:76 for Bamberg. Spanoulis then failed to score and Nicolo Melli (13 rebounds and 6 assists) sealed the sensation from the foul line.
Andrea Trinchieri commented: "Fortunately we were able to defend our lead and capture a great win. I don't know at the moment whether I'm proud, since my team had never won a game in the Top 16 and now we've won two in a row. However, I'm very happy about everything we've achieved to date and I think there's still a shimmer of hope that we can reach the playoffs. The dark side of our team is that we have so many unselfish players. Sometimes, especially under great pressure, someone has to step up to the plate and shoot, not just distribute the ball."
The "Euro giants" now face BG Göttingen in the Beko German Basketball League on Sunday, January 17, 2016. The tip-off is at 5 p.m. in the Brose Arena. The team of Andrea Trinchieri comfortably won the game on the road at the "Violets" earlier in the season by 87:63.
For more information visit www.brosebaskets.de, www.euroleague.net and www.beko-bbl.de.