Bamberg
German Basketball League: Brose Baskets win 80:61 in the Franconian derby against s.Oliver Baskets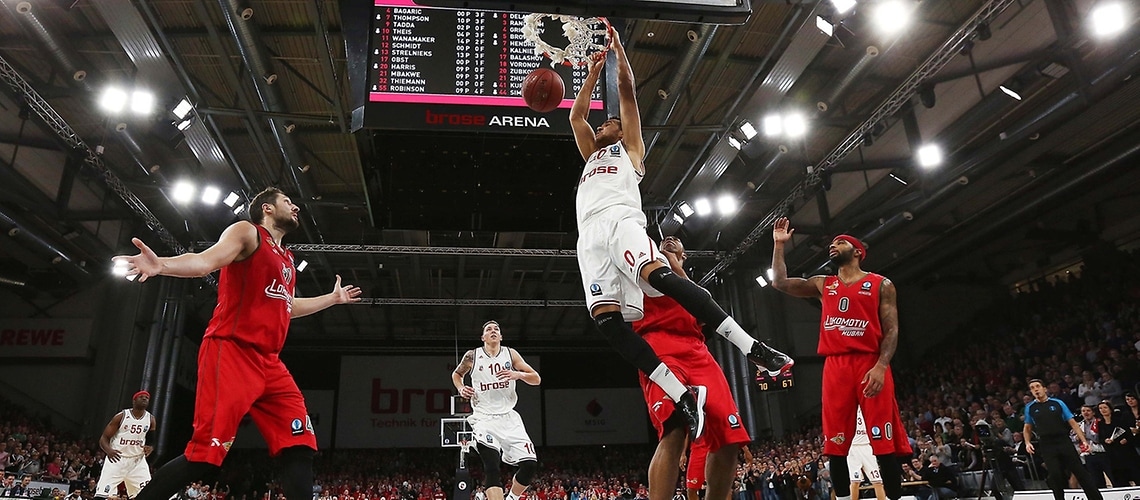 Bamberg, 12-30.2015
s.Oliver Baskets Würzburg proved to be an even match on the road against the German champions Brose Baskets in the first half. However, the team of Head Coach Andrea Trinchieri stepped up its intensity after the break to open up a clear gap and ultimately win the Franconian derby comfortably by 80:61 in the Brose Arena.
Both teams found it difficult to get into the game: no points were put on the board for almost two-and-a-half minutes and the only thing both sides accumulated were turnovers. Brad Wanamaker finally whacked a slam-dunk through the hoop, after which Janis Strelnieks and Leon Radosevic stretched the gap to 6:2. Würzburg struck back right away: Lamonte Ulmer made his free throws, then Seth Tuttle added two lay-ups to put s.oliver Baskets 8:6 in front. However, that was to be only time the team from Lower Franconia led in the encounter. Since Brose Baskets' shooting was incredibly inaccurate, especially from beyond the arc (just one three out of nine attempts up to half-time), they sought and found small gaps under Würzburg's hoop: Miller, Melli and Strelnieks scored three lay-ups, topped off with a bonus free throw, to make it 15:11 for Bamberg. However, their weak 3-point field goal percentage meant the German champions were not able to open up a clear gap by half-time, especially since they were also not able to stop Dru Joyce. With eleven points in the first 20 minutes, Würzburg's playmaker made a major contribution to ensuring that Brose Baskets only went in with a narrow 39:34 lead.
Andrea Trinchieri made some alterations after the break – the crafty fox of a head coach gave Darius Miller the special task in defense of looking after Dru Joyce. And Bamberg succeeded in constricting the Würzburg player's paths, with the result that he failed to score a single point in the second half. In addition, the other Bamberg players stepped up their intensity in defense and so allowed the other side to score just seven points in the third period. In particular Daniel Theis (25 points, 5 rebounds, 2 blocks) was now able to make a mark in offense – the German international scored off eleven of his twelve shots and played a major part in the decisive 12:0 run that helped the home side surge 57:38 ahead. Würzburg, which now began to tire after the game against Ludwigsburg that twice went into overtime, was no longer able to bounce back. In the final period, both head coaches gave their youngsters a lot of time on court.
Andrea Trinchieri commented: "Würzburg's playing a really good season. It was hard work for us. They defended decently and had a good game plan. I'm happy we've won without being as brilliant in attack as in previous games. The threes didn't drop today, but we found another way to be successful. Daniel Theis was the game's best player. Darius Miller gave his all for the team today and took Dru Joyce out of the game very well. The key to success was patience – you need that against a team like Würzburg which moves the ball well."
Brose Baskets face a top game directly before the Christmas period on Wednesday, December 23, 2015, when they travel to third-placed MHP Riesen Ludwigsburg (tip-off: 8:30 p.m.).
For more information visit www.brosebaskets.de, www.euroleague.net and www.beko-bbl.de.