Bayreuth
medi bayreuth defeats ratiopharm ulm 94:82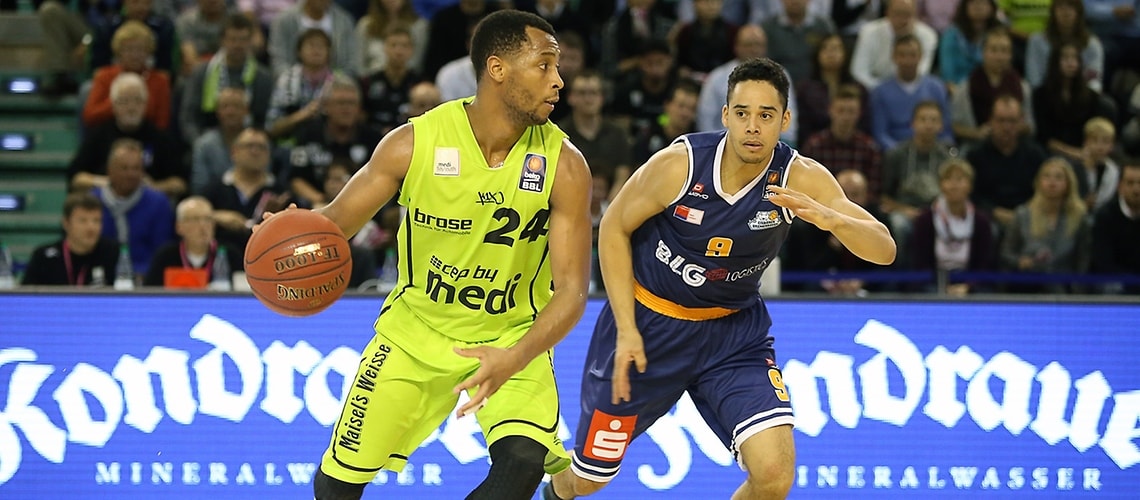 Bayreuth, 02-08.2015
It is well-known that medi bayreuth's strength on its own turf is a factor for what can certainly be rated as a positive season for it so far – but a second factor has been added in the past two home games: team play. "We already showed we can play good basketball at home at the start of the season. The fact that we can now play a different type of basketball is the most important thing for me and the team," was the conclusion of a satisfied Michael Koch after the game. A positive aspect in his eyes was the energy with which his team played against the play-off contenders ratiopharm ulm: "We always had an answer up our sleeve. We'll keep on winning games in future with that attitude!"
Foster, Bowman, McCrea und Co. produced a whirlwind display against their fourth-placed opponents. Greater control under the basket, 22 assists and a shooting percentage of almost 56 means the visitors from Swabia did not have the whiff of a chance in their 94:82 (54:43) defeat. The fact that they were missing Tim Ohlbrecht was not so crucial. Ohlbrecht, who is currently the third most effective player in the Beko German Basketball League, twisted his ankle in the final training session before the encounter.
The only time the visitors were in front was in the first minute, after which a bucket from outside the arc by Foster gave the home side a lead it did not relinquish for the rest of the game. After just five-and-a-half minutes, when the ball was moved impressively through its own ranks and Brandon Bowman drained a three, Bayreuth had carved out a double-digit lead for the first time (23:13). Ulm reduced the deficit to 32:31 in the 14th minute, but on the very next attack the next three squeezed its way through the hoop, this time from Jason Brickman. Bayreuth's lead continued to grow after that and the 3,140 fans were able to admire great moves in offense, such as an alley-oop by Brandon Bowman after a textbook pass by Jason Brickman to make it 66:57 in the 27th minute. The gap between the two teams at the start of the final period was a hefty 17 points, although Ulm was able to reduce the gap with two late three-pointers to end the game.
The scene of the evening
Of the many key actions, a spectacular slam-dunk from Javon McCrea was very important. With the score at 35:33, the center received the ball at the three-point line from Jason Brickman. A look at the basket indicated to McCrea that his path was free and, after some dribbling, he jumped shortly after the foul line and slammed the ball into Ulm's basket to make it 37:33.
Michael Koch commented: "Thank you for the congratulations! We already showed we can play good basketball at home at the start of the season. The fact that we can now play a different type of basketball is the most important thing for me and the team. Today we saw a fit Je'Kel Foster for the first time and Jason Brickman again made ten assists. The most impressive thing was the team has gelled and believes in itself. We no longer play so passively, but in an attacking fashion. We score and act as a team. We once again had 22 assists. The face of the team has changed for the better. Sure, the odd player or more stands out, and it's important for new energy to come from the bench. I'm happy about our strong performance, especially in offense, and that we kept Ulm under control well. We always had an answer up our sleeve. We'll keep on winning games in future with that attitude!"