Monte Carlo
Monaco takes Christian Engelhart closer to the leaders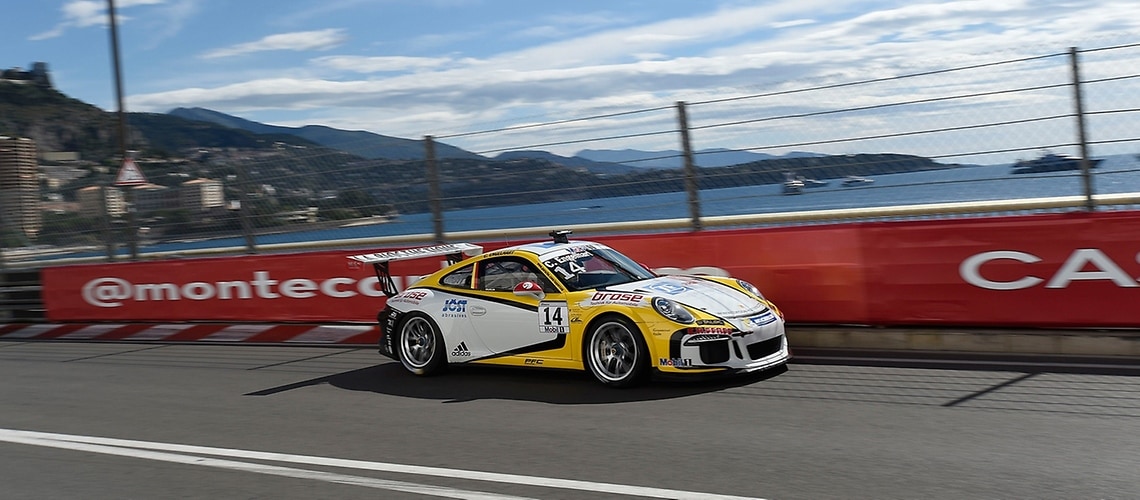 Monte Carlo, 05-25.2015
Once again, the weekend of racing in Monte Carlo proved to be a challenging test: changeable weather conditions, dense traffic on the route and a fierce contest in the leading group in the Porsche Mobil 1 Supercup. Christian Engelhart did what was asked of him in almost perfect fashion, coming fourth and so narrowly missing a spot on the winner's rostrum, and so was able to successfully continue his battle to catch up with the leaders in the championship.
Once again, the start to the second race of the season was crucial in the street canyons of the city on the Mediterranean. Christian started from third on the grid and was forced to defend on the very first bend. "I got off to a good start, but the two drivers ahead of me braked early and very hard and so I lost my momentum." Christian subsequently dropped one position, but was able to finish in his Porsche 911 GT3 Cup without any major damage despite touching the crash barrier.
"Of course, it's a pity I wasn't able to capture a place on the podium at this prestigious venue. But the points were what counted for me and, as a further highlight, I was also able to clock up the fastest lap. We're happy."
His fourth place means Christian had reduced the gap to the leading pilot Michael Ammermüller to two points. The next outing for the driver from Kösching is this weekend: he will be competing for important points in the championship in the second Porsche Brand Cup in the Lausitz region.